Smart Buyers Trust this Guide: Buying Used vs. New Spray Foam Equipment
We understand that picking the right spray foam equipment can be a daunting experience.From the configuration of a mobile spray rig to the wide range of equipment that fills it, how do you determine what fits your business model and your budget?
At Intech Equipment and Supply, we always recommend carefully analyzing the pros and cons to decide which option will best solve your business' present and future needs. With our extensive industry and product knowledge, Intech Equipment and Supply helps today's SPF contractors identify and attain both quality used and new spray foam equipment for a wide range of SPF insulation applications. Learn about the numerous factors to consider before making the big decision about whether to buy used or new spray foam equipment.
Download our free e-Book today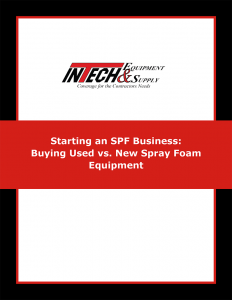 Featured Spray Foam Machines
Intech Equipment & Supply is proud to be a top distributor of PMC and Graco products, including these proportioner models:
Shop for spray foam insulation equipment
Part of establishing a safe job site is ensuring you have the proper safety equipment. Intech Equipment & Supply has a wide selection of personal safety equipment available through our online store, as well as top spray foam insulation equipment.
SHOP NOW