About WINCO Generators
Reliability, performance, and innovation: WINCO generators are known for all three because of the company's commitment to quality and service since its founding in 1927. Anyone wondering about WINCO generators will quickly discover it's a brand at the forefront of generator innovation, blazing trails to keep up with today's worksite and lifestyle demands, shifting how we approach portable power generation. These generators aren't just equipment; they're trusted companions that provide dependable job site service, so you can get the job done right no matter what. Their performance holds up over time, making new and used WINCO generators for sale a smart investment for lasting equipment.
WINCO's engineering and design capabilities vary, delivering portable and stationary power solutions. Additionally, they are meticulously built to cater to various needs ranging from industrial-scale applications to residential. Just as important, they provide a seamless power supply designed to function optimally in different environments and weather conditions.
As a contracting professional, you want to ensure you always have the power source you need to complete any job on time. Gathering as much information as possible is crucial when deciding whether a WINCO generator is worth it and which model best suits your needs. That's why this article explores everything you need to know before making a purchase, including tips on finding a place to buy new or used WINCO generators for sale. But first, we'll offer a quick overview of the top five portable generators from WINCO.
What Are the Top 5 Generators from WINCO?
WINCO offers a remarkable range of portable generators that combine convenience with high performance. Here, we explore the top five models, each known for its unique features and reliable power production.
A go-to choice for robust power needs, the EC22000 produces and output of 22,000 watts. It offers superior stability and portability thanks to its skid-mounted design, and its powerful engine delivers continuous power so you can keep the job going no matter what. Whether it's for industrial use or disaster recovery, the EC22000 stands out for its exceptional performance.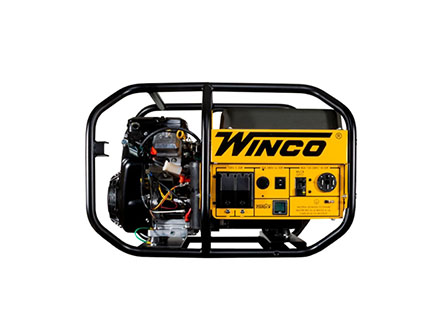 With a steady supply of electricity and multiple outlets, and a 10,000-watt output, the W10000 is a highly-reliable option for substantial power needs. The generator's portability makes it a versatile asset, perfect for use at construction sites, outdoor events, or as a reliable backup at home.
Shop for WINCO Generators
You can browse through the wide inventory of WINCO Generators available in our online store at Intech Equipment & Supply.
SHOP NOW
Choosing the Best Generator
With so many choices for WINCO portable generators, it's key to select a model that handles everything you need to deliver as a contractor. You'll be on your way to choosing the right model for your needs by considering some key factors.
1. Power Requirements
Get clear on your needed total wattage, as this is one of the most important capabilities when selecting a WINCO generator. To get an idea, add the wattage of all the combined equipment and appliances you'll simultaneously power. Consider both the running and starting watts, which are typically higher for appliances with motors. You can also use this wattage calculator.
2. Fuel Type
WINCO generators offer options for running on gas, diesel, or tri-fuel; each offers advantages and trade-offs. For instance, tri-fuel generators provide versatility, while diesel generators are known for their efficiency.
3. Portability
Consider the generator's weight and whether it has wheels for easy movement. If you plan to transport it regularly, a lighter, more compact model may be more suitable.
4. Run Time
Look at how long the generator can run on a full fuel tank. Opt for a larger tank or higher fuel efficiency model if you need a prolonged power supply.
5. Noise Level
You're likely used to loud job sites. However, let your WINCO generator account executive know if the noise level concerns you. As a rule, inverter generators are quieter than conventional ones.
6. Reliability
Investing in a generator should result in securing a reliable piece of equipment that helps you complete any task promptly, no matter how big the job is. WINCO generators have been around for almost a century and have consistently performed as a top choice for professionals who rely on generators for top-notch customer delivery.
7. Price
Finally, consider your budget. Quality should be prioritized over finding a bargain when purchasing a key piece of equipment like a generator. That said, used WINCO generators for sale offer reliability without a new-unit premium. Investing in a reliable generator reduces costs incurred by unanticipated repairs.
Taking the time to understand your power needs and preferences will go a long way in helping you select the perfect portable generator. Always remember, the best generator is not necessarily the one with the highest power output, the lowest price, or the newest features but the one that best suits your specific needs and circumstances.
What is the Best Generator to Buy for the Money?
The best generator to buy for the money will vary, depending on your budget, wattage needs, and the services you offer. However, one of the best WINCO generators for the money is the WINCO WL18000VE Portable Generator. This generator offers an impressive 18,000-watt output, making it well-suited for handling heavy power loads. Its dependable engine ensures a consistent electrical supply, while its portable design allows it to be easily transported to wherever power is required. It's an excellent choice for industrial applications, large-scale events, or as a standby power source for big residences.
Are WINCO Generators Worth it?
When considering whether WINCO generators are worth it, consider their quality, performance, reliability, and the value they provide over their lifespan. WINCO generators excel in all these categories, making them a worthwhile investment for those seeking robust power solutions that keep them up and running on any job site.
WINCO Generators Quality and Performance
WINCO generators are crafted with precision, using high-grade components. They deliver consistent power output and are designed to withstand varying conditions. Their performance in portable and industrial applications is commendable, with models suited to various power needs.
WINCO Generators Reliability
WINCO generators are built to last, reflecting the brand's commitment to reliability. Whether you need power for emergencies, construction sites, or recreational purposes, WINCO's generators stand up to the challenge, offering peace of mind when it counts.
Value Over Lifespan
While WINCO generators might come with a higher initial cost than other brands, they offer excellent value over their lifespan. Their durability, minimal maintenance needs, and efficient operation make them a cost-effective choice in the long run, and you can always search for used WINCO generators for sale to offset costs.
Customer Service
WINCO stands behind its products, offering excellent customer service and support and still servicing generators that are several decades old. When you combine this level of customer care with a supplier like Intech Equipment & Supply, which delivers best-in-class customer service, you'll find that your WINCO generator is one of the soundest investments you'll ever make.
While the answer to whether WINCO generators are worth it depends on different contractor needs, when key considerations are added up, you'll likely find the answer is "yes."
Are WINCO Generators Good?
Considering their reputation, longevity, and proven quality, it's safe to say WINCO generators are more than just good—they are exceptional. The brand's commitment to quality, innovation, and reliability is evident in every model, ensuring a stable, efficient power supply under various conditions. That's why used WINCO generators for sale remain a popular choice among contractors. Users across residential, commercial, and industrial sectors vouch for consistent performance and long-term durability, reinforcing WINCO's position as a trusted name in power solutions.
Are WINCO Generators Made in the USA?
Yes, WINCO generators are made in the USA.
Who Makes WINCO Generators?
WINCO, Inc manufactures WINCO generators.
Where Are WINCO Generators Made?
WINCO, Inc. is based in Minnesota, designing and manufacturing its extensive power solutions. Committed to maintaining high-quality standards, WINCO sources premium components and employs meticulous craftsmanship to produce reliable, durable generators. This dedication to local production helps ensure superior product quality and supports American jobs and industry. That means when you invest in a WINCO generator, you buy a reliable power solution, and support American manufacturing.
Finding Used WINCO Generators for Sale
You'll find plenty of supplier choices when you search for a used WINCO generator for sale. However, a reputable supplier is crucial for purchasing a properly maintained and inspected generator. Additionally, a good supplier will offer you support after the purchase, whether you need repairs or a simple question answered. When searching for used WINCO generators for sale, it's essential to consider the following factors to ensure you make the best investment.
Nationwide Accessibility
Look for a provider with a national footprint, which ensures that you can promptly receive the equipment or parts you need wherever you are in the country. For example, Intech Equipment and Supply can often ship a required part to its customers the next day if needed. This minimizes job site downtime.
Exceptional Customer Service
The best providers offer top-notch customer service, troubleshooting, and service help across all time zones. Good customer service goes beyond simply selling parts — it includes providing support during installation or replacement and helping you get your generator up and running as soon as possible.
Consider the Total Cost of Ownership
While the initial price is important, it's crucial to consider the total cost of ownership. Some suppliers may offer lower initial expenses, but the total cost may be higher when it comes to service, support, and prompt issue resolution.
Warranty Coverage
Be sure to purchase your used generator from a supplier that offers comprehensive warranty coverage. This protection should apply regardless of location, giving you peace of mind if anything goes wrong.
Insurance Coverage & Protection
Select a company that is insured and backed by a solid history in the industry. You'll be reassured that if anything goes wrong, you won't be left in the lurch, dealing with financial loss and downtime.
Experience and Stability
Choose a company that has been in business for at least a few decades and has a reputation for standing behind what they sell. Such a company will be there for you in the long run, providing service, support, and parts as needed.
These critical aspects ensure a smooth experience purchasing and owning a WINCO generator. A provider offering all these benefits, like Intech Equipment, can be an excellent choice when shopping for used WINCO generators.
WINCO has featured Intech Equipment as an outstanding WINCO dealer, recognized for its dedication to customer support and stellar brand representation.
Please browse our selection of WINCO generators today to find the right generator for your business needs.