Why the New Carlisle Spray Foam Gun Is Preferred by More SPF Contractors
The Carlisle IntelliSpray Spray Foam System has made a noticeable impact on the SPF industry in a relatively short amount of time. By gaining recognition in publications like Spray Foam Magazine and other industry newsletters, Carlisle spray foam equipment is developing a reputation of dependability through proven use.
After acquiring Accella Polyurethane Systems, Carlisle applied its 100 years of experience in the construction industry and its vast knowledge of spray foam to differentiate Carlisle spray foam equipment in the market. By uniting its strong expertise in spray foam with corporate stability, Carlisle is positioned to be a valuable contributor to the SPF industry.
The Carlisle IntelliSpray spray foam system is the result of years of research, innovation, and prototype experimentation. Experts in engineering, spray foam, and manufacturing teamed up to address some of the industry's most pressing needs, such as reduced downtime, more even sprays, and cost savings.
Download the eBook on this page to learn more about the Carlisle Spray Foam system.
A Gun for Both Residential and Commercial Projects
The Carlisle ST1 Spray Foam Gun is designed to maximize the contractor's productivity, regardless of whether they work in the residential or commercial realm. It boasts better spray consistency and uptime compared to competitors in its class.
Intech Equipment & Supply offers the latest spray foam equipment, training, and comprehensive customer support. If you are interested in the Carlisle spray foam system, speak with our sales team today. Take advantage of our convenient financing options. For more information, check out our financing calculator.
Download the eBook on this page to learn more about the Carlisle Spray Foam system.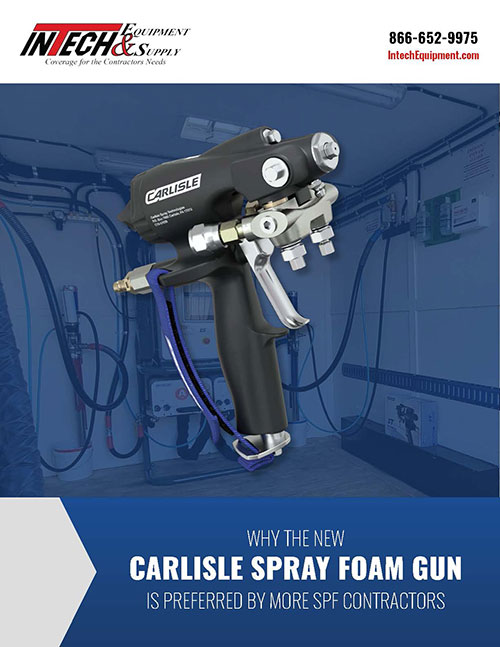 Featured Spray Foam Machines
Intech Equipment & Supply is proud to be a top distributor of PMC and Graco products, including these proportioner models:
Shop for spray foam insulation equipment
Part of establishing a safe job site is ensuring you have the proper safety equipment. Intech Equipment & Supply has a wide selection of personal safety equipment available through our online store, as well as top spray foam insulation equipment.
SHOP NOW