Introduction
Are you looking for a convenient way to house your spray polyurethane foam (SPF) insulation equipment so that everything you need to tackle an insulation job is easily accessible? Are you ready to roll when customers need you the most?
Mobile spray foam rigs hold all the necessary SPF equipment and tools you need in a handy portable unit.
Many spray foam contractors commonly use tag-along style rigs, where they tow their rig behind a pick-up truck. However, box truck styles are becoming increasingly popular among installers, as well.
Box trucks offer numerous benefits; primarily, that they have a greater storage capacity and can house a larger quantity spray foam equipment. Box truck-style spray foam rigs also can transport a substantial amount of materials, making them ideal for high-volume operations.
Mobile spray foam rigs make it easy for you to house your proportioner, compressor, generator, and other related equipment. They also commonly feature a separate work area to help you organize and store your tools and materials for easy access. Many spray foam rigs also feature workbenches and other support tools so you can service your equipment and spray guns at any time.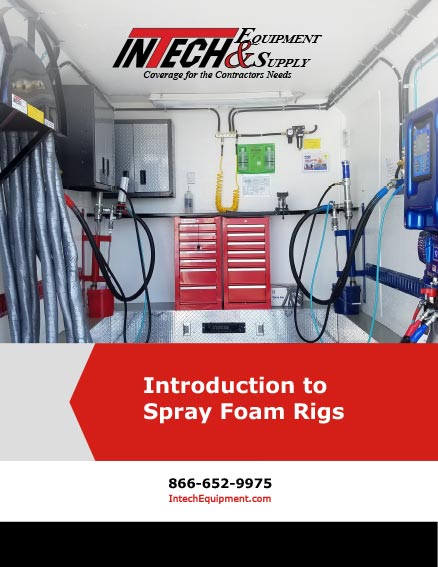 What Are the Biggest Advantages?
What Are the Biggest Advantages?
There are many benefits to investing in a mobile spray foam rig. First and foremost, it is a way to keep all of your SPF equipment and supplies in one locked and secure place. A rig also protects all of your components from harsh job site environments and unpredictable weather.
Another advantage of purchasing a spray foam rig is how you can opt to include power utilities in your rig, so that you always have electrical power and air available. Many rigs contain built-in generators that allow you to arrive on a job ready to work right away.
With a mobile spray foam rig, there is no lost time scrambling around searching for power or wasting time connecting material hoses and utility connections every day.
Important Considerations for Spray Foam Rig
Looking to Invest in a Spray Foam Rig? Check Out These Important Considerations
If you are thinking about investing in a spray foam rig, the team of experts at Intech Equipment & Supply recommends reading through the following considerations before diving in head first:
Figure out why you want to make the investment
When selecting a spray foam rig, there are many factors to mull over. If you are new to the industry, for example, we encourage you to think about what type of insulation jobs you plan to take on. Think about whether you plan to focus on either the residential or commercial space.
Also, determine whether you want to do work on jobs centered on new construction, existing structures, and remodels, or, perhaps you want to focus on roofing jobs only.
Consider a mobile spray foam rig's trailer height
If the overall interior of your spray foam rig height is limited, you risk facing challenges when it is time to insert your transfer pumps into the barrels. It is essential to have a suitable minimum interior rig height to insert your transfer pumps into the 55-gallon drums of SPF chemical. Furthermore, if you have a rig with a shorter height, you may have to tip the barrels to insert pumps, which can be difficult with a barrel full of chemical.
Insulate Your Spray Foam Rig
Insulate your spray foam rig
This factor is extremely critical: you must ensure that you insulate your spray foam rig for it to operate in a consistent, dependable manner. With SPF insulation, the chemical has to maintain a specific temperature, often between 60-75°F, to work properly. Keep in mind, in warmer climates, you need to consider installing air-conditioning in your rig. On the other hand, in colder climates, heaters may be necessary.
We suggest insulating your rig's ceiling, walls, and foundation, or underside, with SPF, as well. Spray foaming the bottom of your rig can help extend the lifetime of the vehicle, especially if you work in an area where road crews use salt to de-ice the roads.
Take the Time for Proper Training
Take the time for proper training
Equally important to selecting a spray foam rig is the professional training you receive. It is essential to learn how to properly and safely operate a mobile spray foam rig; about the SPF industry in general; chemical application, maintaining your equipment; and, standard safety procedures to succeed in the SPF space.
Intech Equipment & Supply has experience spraying foam and repairing and maintaining equipment. We also offer year-round training so you can stay up-to-date on the latest SPF trends, or receive professional certification for various equipment, products, and safety measures.
What's Included in a Successful Mobile Spray Foam Rig
What Is Included in a Successful Mobile Spray Foam Rig?
At a minimum, we recommend that contractors include the following spray polyurethane foam equipment and materials in their rig:
Generator. The generator provides a power supply to the spray foam machine and electric compressor.
Contractors need a compressor to supply air to the transfer pumps, drum mixer, and spray gun.
Air dryers. You can filter out moisture contaminants from the compressor to your spray foam equipment with air dryers.
A work area and safety station. Most contractors opt to include a safety station and work area that they can use to perform common maintenance tasks.
Drum rack station. This area secures the 55-gallon drums safely during transport.
Drum heaters. In cooler environments, installers' use drum heaters to keep products warm, as well as re-warm chemicals to the manufacturer's recommendations.
Transfer pumps. These apparatuses consist of air-motors that move a shaft fixed to pump packings that work with check-valves by relocating spray materials to the proportioner.
Proportioner. Also known as the spray foam machine, a proportioner is where the manufacturing of spray foam begins.
Heated spray hoses. Designed to maintain the manufacturer's pre-heated recommendations from the machine to the spray gun, heated spray hoses are typically sold in 50 ft. sections.
Spray foam gun. To correctly install foam, you must first ensure you blend the two (A) and (B) chemicals inside of your spray gun via the internal mixing chamber. Designed for optional output flows, mixing chambers allow you to select the flow of material and the production required for your spray foam project.
Are You Ready to Take the Next Step?
We understand that buying a spray foam rig is a significant investment. Careful planning can help you enhance your investment by ensuring you customize your rig to meet your needs both now, and down the road as your business expands.
Intech Equipment & Supply offers custom-designed mobile spray foam rigs designed and built at our locations across the U.S.