GRACO Mobile Spray Foam Rigs
A GRACO mobile spray foam rig is a self-contained, portable unit that contains all the equipment, parts and accessories you need on a job site in a handy setup that you can quickly move from one project location to another. It also provides a place for you to store your equipment securely to guard against damage and theft, as well as protect it from the elements.
A GRACO mobile spray foam rig is custom designed to your exact specifications to ensure it meets your business needs and unique equipment demands and fits your budget. It can be installed in a vehicle you provide, or we can help you choose a used box truck or trailer from our inventory.
When you own a GRACO spray foam rig, you have top-rated equipment and also benefit from big cost savings because we manufacture spray rigs in-house at all our locations nationwide. Each branch provides support as well as maintenance, and repair service, and we also include two days of equipment training and free delivery anywhere in the continental United States.
Products We Recommend For Your GRACO Mobile Spray Foam Rig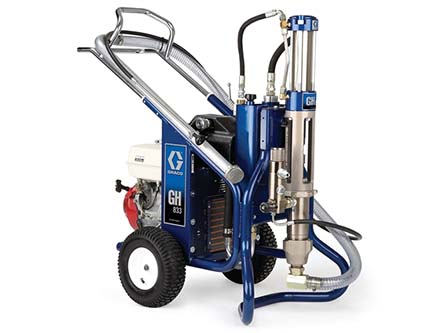 Preferred choice for professional contractors who spray a wide range of materials. Features faster, more responsive changeover, high-precision pressure control and an inside/out design that eliminates clogged filters.
Provides consistent feed pressures and flow rates–even with higher viscosity materials so you spend more time spraying and less time on maintenance.
Please visit our online store to see a full list of GRACO products and refer to our buyer's guide to choose products and accessories that meet your needs.
Consult Our Experts
Each of our technical support team members has extensive field experience in the spray foam industry and can help you build a GRACO spray foam rig that meets your exact needs and fits your budget. Contact our pros online or call 1-866-652-9975 for help designing your custom GRACO spray foam rig.
SHOP NOW