88VX Series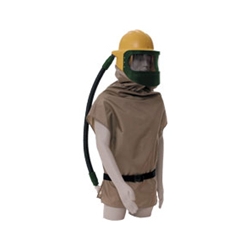 For an abrasive blaster or a painter it is no secret that finding the right respirator is not only about safety, but also about comfort. Long hours and harsh conditions require a respirator that can stand the test of time, and the test of functional comforts. The Bullard 88VX Respirator Series comes in with its reliable respiratory protection, and its amazing comfort level.
The 88VX is a Type C or CE Continuous flow class respirator approved by NIOSH. The helmet offers you penetration protection, and top impact protection. The helmet also has a cape that surrounds and protects the users entire head area from over spray, airborne contaminants, and even abrasive rebound. The shell for the helmet is extremely light weight and comes with an adjustable band to guarantee that it is a perfect fit and that it is comfortable.
The light inner shell is also a comfortable fit, and the neck cuff is sewn in to provide an extra barrier against contaminants gaining entry. Fit testing isn't required, and the unique design directs air right into the user breathing zone. This respirator setup also works even if you have glasses, beards, or other safety goggles underneath.
Optional add-on features for this respirator include climate control for both warming and cooling incoming air, and also lens tinting for outdoor uses requiring added protection from the sun. Cheek pads can be ordered as well for the inside of the helmet, adding even more stability.
Browse the entire line of Bullard 88VX respirator series here at the Intech Equipment and Supply online store, or call our product experts for assistance in selecting the respirator and add-ons that are right for you and your crews. The tradeoff between protective safety gear, functional respirator and comfort level is eliminated with this line from
Bullard Safety
, which means your productivity in the field will only increase.
Items Per Page:
1

16 Results

(Viewing 1 - 12 of 16)
16 Results

(Viewing 1 - 12 of 16)