Clean Air Box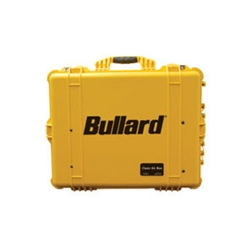 Bullard Clean Air Box
A Bullard Clean Air Box delivers superior filtration for breathing air while meeting all OSHA regulations for Grade D air being supplied by airline respirators. A Clean Air Box is simple to use and functions with a three stage process that ensures air is filtered and Carbon Monoxide levels are constantly monitored. Together, the Bullard Clean Air Box keeps your workers safe, and makes sure that you meet all OSHA rules.
The filtration in a Clean Air Box occurs in three stages. All three stages ultimately work together to deliver Grade D breathing air, ensuring that oil, particulates, water, odors and oil vapors are all removed from the air. Stage one begins by removing contaminants that are solid, and bulk liquids. Over 95% of solids are taken out of the breathing air and this also enhances the lives of the final two stages of filtration. Stage two has an efficiency rating for filtration of 99.9998%. Effectively removing very fine oil mists and particulates, the second stage operates highly efficiently and includes an automatic drain. The third and final stage involves activated charcoal that functions as an element to remove vapors, oil and odors to finalize the air filtration process.
The Bullard Clean Air Box is protected in a portable Pelican Case or with powder coated steel for the wall mounted units. Independent regulators are available as an optional add on, and the built in automatic drains function to extend the life of the filter itself. Indicators will let you know when the filter needs changed, and automatic calibration takes less than two minutes and requires no additional tools. The unit can run on the power cord or on batteries for up to eighty hours.
Meet and exceed OSHA regulations with a
Bullard Clean Air Box
for your crews today, and order online at Intech Equipment and Supply.
More in Categories