Remote Air Manifold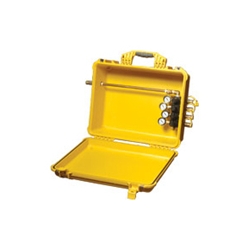 Bullard Remote Air Manifold
Bullard RAM or Remote Air Manifold allows for you to enhance mobility and flexibility for
respiratory systems
on your jobsite. It is not always feasible to have an air source located right next to your crew, and a manifold means that the air is able to be safely delivered from a further distance. Bullard Remote Air Manifolds are designed to allow the flexibility of being able to work more than 300 feet from the air source. This is especially useful for jobs in small or confined spaces as well as jobs that require work off the ground, such as on a ladder, in attics and inside crawl spaces.
The Remote Air Manifolds by Bullard offer multiple respirator couplings, single or multiple pressure regulators and a rugged protective case. Connect up to 8 workers to a single air source for maximum usability and mobility. The portable units come in a polycarbonate Pelican case while the wall mounted Remote air manifold is comprised of a protective and strong powder coated steel.
Commonly used in abrasive blasting applications and also coatings and painting, the Bullard manifolds offer a way to distribute air effectively and regulate the air from a common source. It is not always a possibility for your crews to wear a traditional respirator using a traditional source of air, and still reach all of the necessary areas on a jobsite. Because of the durability and flexibility, this solution by Bullard is ideal and can assist you with one worker or multiple workers gaining access while still maintaining respiratory safety.
Browse and compare the Bullard Remote Air Manifolds online at the Intech Equipment and Supply store. Learn more product details and information by working with our trusted professionals, and ensure that you make the best selection to meet your needs. The easy portability of a Bullard RAM and the durable design allow you to invest wisely once, make the right selection with Intech.
Items Per Page:
1

38 Results

(Viewing 1 - 12 of 38)
38 Results

(Viewing 1 - 12 of 38)