Free Air Pumps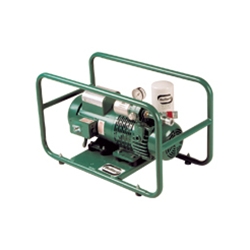 Looking for an affordable alternative to using compressed air supplies for your
respiratory protection
programs? Bullard Safety has the perfect solution with their Free-Air Pumps. These pumps provide a lower cost solution to supply clean air to your crews in many scenarios. Designed to be used in a clean air environment, the free-air pump pushes good air to respirators and doesn't require many of the costly add ons that are seen with compressed air.
Free-Air Pumps can be used in a variety of applications, and they are totally mobile which means they can be easily transported from job to job, and stored in the interim without any hassle. Installation costs are non-existent, and versions are also available that support devices that are climate controlled. These pumps do not require the use of temperature alarms, Carbon Monoxide monitors or filters for the air line.
Depending on the size of your typical job and crew, order from a variety of capacities within the line of Bullard Safety Free-air pumps. Designs range from accommodating one full hood style respirator or two half or full face mask respirators, all the way to seven hooded respirators or ten full/half facemask respirators. Crews can easily maintain and operate these user-friendly air pumps, and air can be received up to 300 feet away from the pump itself.
Keeping costs down whenever possible is always a priority, and with respiratory protection being a huge consideration, it is not often that a lower cost alternative is available! Choose the Bullard Free-air pumps when possible to save on costly compressed air operations. Bullard also provides an array of replacement and repair parts for troubleshooting and general modifications on all of their free-air pumps. Consider a mobile, affordable solution today with Bullard Safety at Intech Equipment and Supply! Call our product technical experts to discuss the features and options that would maximize your field usage and minimize your budgets, we are always available to assist you.
More in Categories
Items Per Page:
1

25 Results

(Viewing 1 - 12 of 25)
25 Results

(Viewing 1 - 12 of 25)