graco fusion ap gun round - ar3737
SKU: 248617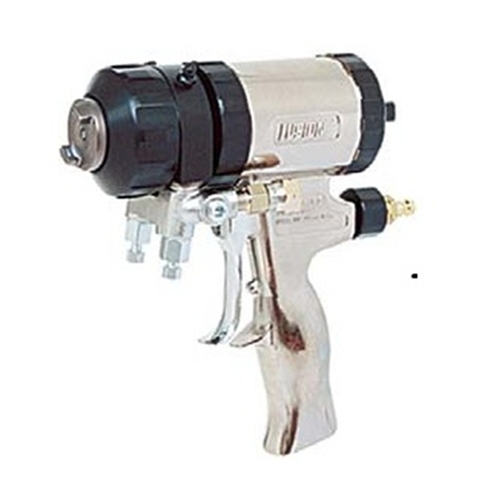 We have experts waiting to help you with any questions you may have.
866-652-9975
PRODUCT DESCRIPTION
Graco Fusion Gun AP Round 248617
Less required maintenance means more time spraying in the field and that is exactly what the Fusion AP delivers on! Increase productivity and profits by providing your crews with the tools to excel. The Graco Fusion Gun is expertly designed and engineered combining user feedback with extensive industry knowledge to provide a superior solution for spray insulation and other plural component applications.
The 248617 Combo includes the Fusion Gun, and AR3737 mix chamber. The round spray pattern and 3500 PSI delivery allow for plural components to be expertly applied, while the long life mix chamber gives a better mix quality than other guns on the market today. In multiple industries, users are realizing the efficiency gains and operational comfort that the Fusion AP provides.
The precise spraying capabilities and the array of potential chamber / tip combinations make this a great investment for now, as well as the future. The Fusion AP round 248617 has air blast technology standard to fight against buildup and clogs, preventing delays and issues during the application process. Other unique maintenance reducing features include access to the AR 3737 mix chamber for service and switching, conveniently accessible through the screw on front cap. The Quick release fluid housing comes standard as well on all models of the Fusion Gun.
For your next plural component application, whether it be spray foam, coatings or adhesives, opt for the Fusion AP and enjoy the immediate benefits as well as acknowledge the available future potential. For more details, customization and any other information, contact us for assistance.
Fusion AP 248617 Materials:
Polyurea or polyurethane coatings
Spray Foam insulation
Plural component Adhesives
Plural component caulks
Fusion AP 248617 Applications:
Residential & commercial spray foam insulation
Protective coating applications on tanks & pipes
Roofing applications
Waterproofing concrete
Bedliners
OperationManual: 309550
Brochure: 300615
248617 - Fusion AP Gun Mix Chamber - AR3737