probler 2 gun assembly - gc2504 w/ gc2514 15.5 in (394 mm) na 29 lb/min
SKU: GCP2R4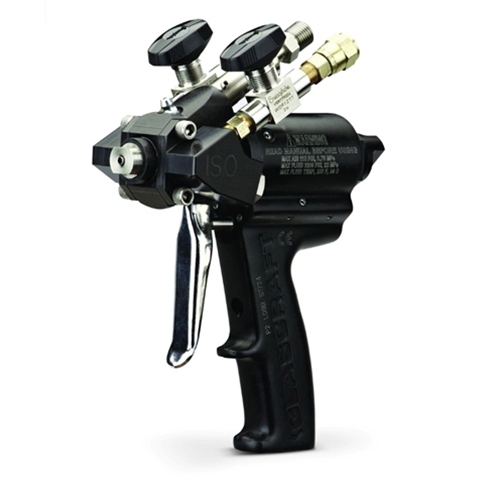 We have experts waiting to help you with any questions you may have.
866-652-9975
PRODUCT DESCRIPTION
Probler P2 Graco Spray Gun GCP2R4
With the GCP2R4 Probler P2 Spray Gun Assembly by Graco, multiple coveted features converge in one small, easy to use spray gun for spray foam insulation. The design coupled with the industry leading performance capabilities make the Probler P2 a fan favorite for any one of us that regularly applies spray foam insulation in residential or commercial work. With the Probler P2 spray gun kit, you get the Probler P2 gun, the GC2504 Graco Mix chamber and the GC2514 mix chamber insert.
This full assembly is built on the Probler P2 air purge, plural component spray gun. Graco raises the bar with the P2 featuring reliable check valves, keep the dry side of your spray gun dry – and cutting the need to clean air passages as well with small drill bits. The grease fitting and dual-piece mix chamber further cut your routine cleaning times. Maintenance throughout your days and during end of day clean up is brought to a minimum!
Take the time you are saving on maintenance, and add it to the time you save in reduced fatigue and increased reach with the GCP2R4 Probler P2 package. The 3 pound gun features a responsive trigger action that gives up to 300 LBs of force as a result of a double piston design – allowing you to spray easier even in hard to reach areas. The trigger force also cuts back on the mix chamber pull-back pressure. All in all, the Probler P2 gives you hours back on your day and still provides a better result for applying spray foam insulation!
Order the Probler P2 GCP2R4 Assembly for residential or commercial insulation jobs today. Graco GCP2R4 kit includes the GC2504 Graco Mix chamber and the GC2514 mix chamber insert. Browse online or contact the pros here at
Intech Equipment
and Supply for specific information, guidance and questions.
Operation Manual: 313213
Brochure: 300615

GCP2R4
- GC2504 w/ GC2514 15.5 in (394 mm) NA 29 lb/min