probler p2 elite gun assembly gcp3r1
SKU: GCP3R1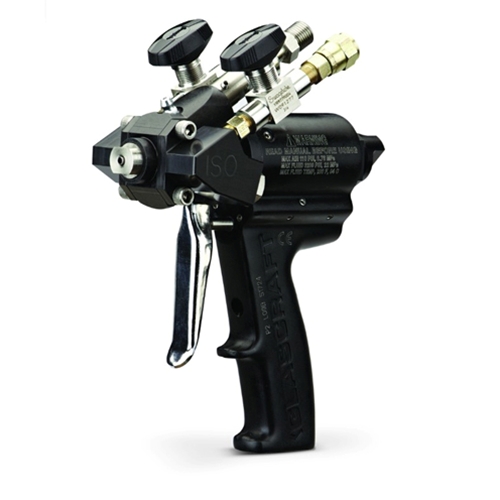 We have experts waiting to help you with any questions you may have.
866-652-9975
PRODUCT DESCRIPTION
GCP3R1 Probler P2 Elite for Spray Insulation and Coatings

With the Probler P2 Elite GCP3R1 Graco has packed even more advanced features on top of the already great capabilities in the standard Probler P2 spray gun. With the Elite, widen your scope by having compatibility with even more Graco accessories, as well as alternatives for the side block hose routings and better access to remove filters easily. Couple that with all the great standard features below, and this is a great investment for both spray insulation and coating work.

The Probler P2 gained in popularity by providing a solution for either spray insulation only or spray insulation and coatings – Browse details closely to ensure that the Probler P2 you select is the right one for your current and future job sites! This spray gun provides for better mix and better application – The dual piece mix chamber and mix chamber insert set up, the GC2501 and GC 2511 for the GCP3R1 combo kit, allows you easy access for replacing the mix chamber insert. The responsive trigger combined with the balanced light weight gun gives you the ability to get in tough to reach, uncomfortable spots – without the fatigue seen with other spray insulation equipment. The Probler P2 also protects your investment with its unique interior design, providing virtually zero access for material to get into your air piston.

Use the GCP3R1 Probler P2 Elite for roof and wall spray insulation, suited for both commercial and residential work. Spray insulation is delivered at a rate of 12 pounds per minute. For coatings, the GCP3R1 can be used to apply roofing surface coatings, protective tank and pipe coatings and more – at a rate of 1.6 GPM.

Discuss your current needs and future plans with our Graco experts here at Intech, and join the many spray insulation contractors that are enjoying the dependability and versatility of the Probler P2 Elite series.