probler p2 automatic gun gcp4r0
SKU: GCP4R0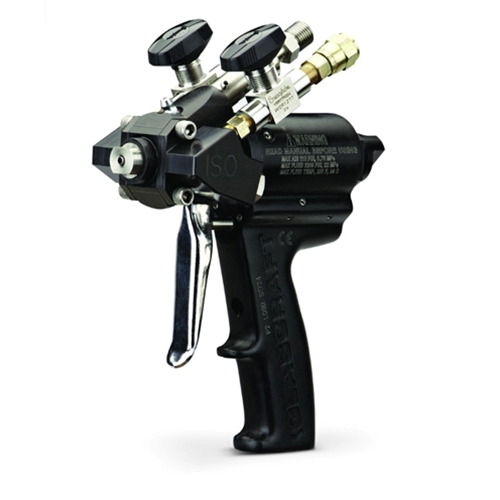 We have experts waiting to help you with any questions you may have.
866-652-9975
PRODUCT DESCRIPTION
Probler P2 Automatic Gun GCP4R0 by Graco
Order the Probler P2 GCP4R0 for coating equipment and spray foam insulation applications all in one. This automatic gun set up is built to handle a variety of applications, with expertly designed Graco technology to provide a better finish while reducing maintenance and complications. The GCP4R0 comes with the GC2500 mixing chamber and the GC2510 mix chamber insert. At a 25 inch distance from the application surface, you get a 9 inch spray pattern. Spray coatings at 1.1 GPM or spray foam insulation at 8 LBs / Minute.
With any Probler P2 spray guns by Graco, standard features include the enhanced check valves that provide an anti-crossover environment keeping the dry side of your gun dry, preventing material from entering into the air piston. The Probler P2 weighs only 3 pounds, and the new ergonomic design of the handle lets you spray longer and more comfortably. The double piston design in the trigger provides the ultimate in responsive trigger action, giving over 300 pounds of trigger force with much less effort. The dual piston also reduces the amount of pull back from your mix chamber, which is easily accessed and the two-piece chamber design cuts your downtime to a minimum.
Use the Probler P2 GCP4R0 as part of your coating equipment line up, or for wall and roof spray foam insulation. Order other Probler P2 parts for additional specific applications, or contact the pros here at Intech for access to any additional information and details. With this spray gun by Graco, you are perfecting results while investing in less down time and streamlined maintenance – a great combination in an industry where equipment takes a beating from both the job site and the harsh plural component materials it applies. Choose wisely with Graco at Intech Equipment and Supply!
Specifications:
Max. Output – 40 lb/min (18 kg/min)
Min. Output - 3 lb/min (1.4 kg/min)
Weight - 3.0 lb (1.4 kg)
Max. Working Air Inlet Pressure - 110 psi (7.6 bar, 0.76 Mpa)
Max. Fluid Temperature - 200°F (93°C)
Gun Dimensions - 6.9 x 8.7 x 3.5 in (17.5 x 22 x 8.9 cm)
Operation Manual: 313213
Brochure: 300615

GCP4R0
- GC2500 w/ GC2510 9.0 in (229 mm) 1.1 gpm 8 lb/min