probler p2 automatic gun gcp4r1
SKU: GCP4R1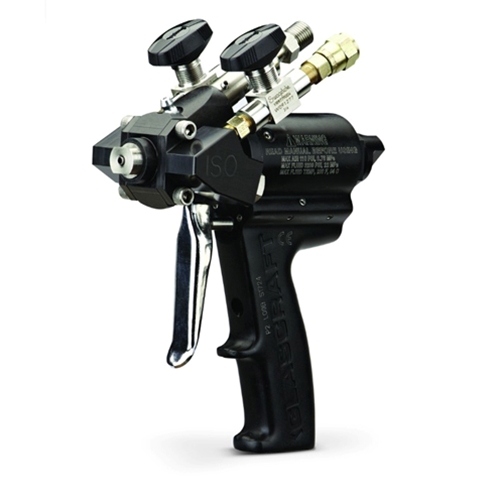 We have experts waiting to help you with any questions you may have.
866-652-9975
PRODUCT DESCRIPTION
Probler P2 Automatic Spray Gun GCP4R1 Graco
Boasting all of the great features standard on the Graco line of Probler P2 spray guns, the GCP4R1 takes it a step further as part of the automatic gun series. The Probler P2 will allow you to meet the increasing demands of applications that require automatic processing for foam insulation and coating equipment. Get the competitive edge in your industry with the right tools, made by Graco backed by decades of manufacturing and industry expertise.
The GCP4R1 comes with the GC2501 mix chamber and the GC2511 mix chamber insert. At a 24 inch distance from your application surface, the GCP4R1 lets you spray a 10 inch pattern, with foam insulation at a rate of 12 pounds per minute and polyurea coatings at a rate of 1.6 GPM. The auto/remote triggering capabilities of the GCP4R1 give you the ability to activate and disengage the piston in an automatic spray application. Use the Probler P2 GCP4R1 in the advanced projects that foam insulation and coatings equipment are requiring robotic processing.
In addition to the auto capabilities, the Probler P2 gun line also features maintenance-friendly, time reduced features that all spray contractors will surely appreciate. The Probler P2 keeps the dry side of the gun completely separate from the liquid side, using check valves – Meaning you and your crewmen no longer need to use mini drill bits to clean out the air passages when clogged. All the Probler P2s also feature responsive trigger force, and an easy to service mix chamber.
Select the GCP4R1 Probler P2 gun for foam insulation jobs and as coating equipment – use it for both residential and commercial insulation on roofs and walls, and coatings for roofing, bed liners, pipes and tanks. This versatile investment is a great addition to your equipment collection!
Operation Manual: 313213
Brochure: 300615

GCP4R1
- GC2501 w/ GC2511 10 in (254 mm) 1.6 gpm 12 lb/min