probler p2 automatic gun gcp4r2
SKU: GCP4R2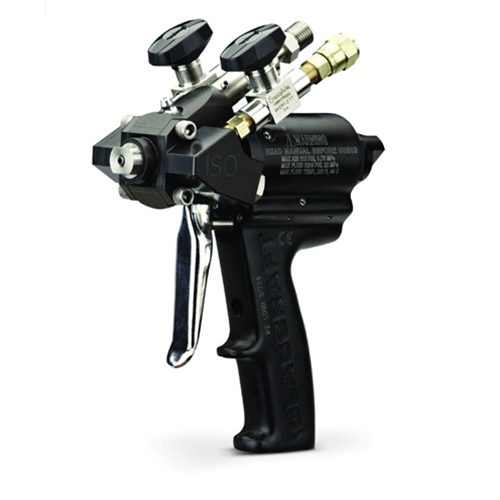 We have experts waiting to help you with any questions you may have.
866-652-9975
PRODUCT DESCRIPTION
GCP4R2 Automatic Probler P2 from Graco
Cover all of your bases with the Graco Probler P2 GCP4R2 featuring all of the added value in the standard Probler P2 spray gun, with additional programming and automatic processing capabilities. The folks at Graco have taken the Probler P2 to the next with expert service and support, as well as modification parts and a variety of tip and chamber combinations available at your fingertips. Invest in the technology and versatility that Graco and the Probler P2 brings to your equipment line up today!
The GCP4R2 Probler P2 spray gun features streamlined maintenance technology including easier access to replace your mix chamber insert, with only removing the insert and not the entire chamber, a great two piece design. The Probler P2 also features check valves that ensure no crossover occurs letting the dry side of your gun be compromised – Essentially preventing material from getting to the air piston.
With the automatic capabilities, the Probler P2 adds auto processing to the list and can accommodate the increased amount of jobs that are requiring spray insulation and coatings that need to robotically processed. The double air-ports in the GCP4R2 give you the ability for activation and disengaging for programmed spray sequences.
Take your foam insulation and coating business to the next level with Graco and the Probler P2 automatic gun line up. Choose this GCP4R2 with GC2512 mix chamber insert and GC2502 chamber, or contact our pros for
additional assistance
in navigating and selecting the best equipment for your unique demands.
GCP4R2 Features:
Simplified regular maintenance
Double –piston design gives 300 LBs of trigger force
Two-piece mix chamber, insert access
Air Piston / Dry side kept dry with check valves
User friendly handle, light weight
Operation Manual: 313213
Brochure: 300615

GCP4R2
- GC2502 w/ GC2512 12 in (305 mm) 2.5 gpm 16 lb/min