probler p2 automatic gun gcp4r4
SKU: GCP4R4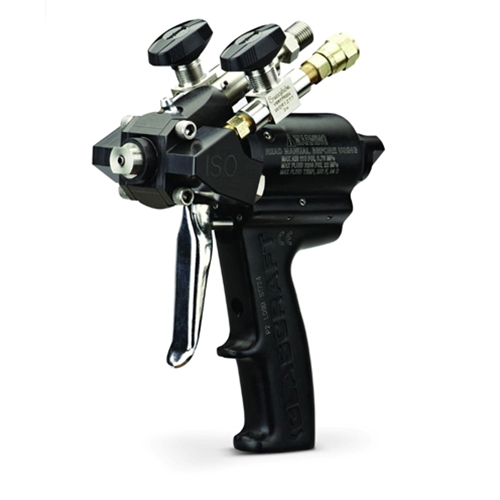 We have experts waiting to help you with any questions you may have.
866-652-9975
PRODUCT DESCRIPTION
Automatic Graco GCP4R4 Probler P2
For high output spray foam insulation applications on your jobs that often require automatic processing / robotic capabilities, the Probler P2 GCP4R4 is an excellent choice. Take out the uncertainty and the guesswork by working with Intech Equipment and Supply, a trusted Graco North America Distributor for three years running. Our pros work for you to put all the best in Graco equipment and technology in action on your spray foam insulation jobs.
The Probler P2 provides access to even tough to reach spots, with a light weight design that is easy to operate, particularly for longer periods. The reinforced trigger pressure makes spraying easier, and combining that with the maintenance features, the Probler P2 puts profits back in your pocket by reducing down time and maximizing the working hours in a day. The Graco GCP4R4 takes all the Probler p2 features and adds in automatic spray technology to allow you to expand your business realm even further.
With automatic spraying, spray foam insulation that requires robotic processing can be applied with the GCP4R4 spray gun. Use this Probler P2 with both 6-axis arm robotic manipulators and with reciprocation processes. The head of the automatic Probler P2s feature double air ports that allow for engaging and disengaging the piston to spray automatically. The GCP4R4 is for spray foam insulation only, although
alternatives that cover coatings
applications are also available. With this Graco Auto Probler P2 gun, spray a 15.5 inch pattern (from 24 inches away) at a rate of 29 pounds of spray foam insulation per minute. The GCP4R4 comes standard with the GC2504 chamber and GC2514 mix chamber insert.
Order online today at Intech Equipment and Supply, or browse alternative Probler P2 models – our experts are available to assist you with additional resources and information to ensure you make the best selection for your job site demands. Get started today!
Operation Manual: 313213
Brochure: 300615

GCP4R4
- GC2504 w/ GC2514 15.5 in (394 mm) NA 29 lb/min