probler p2 automatic gun gcp4ra
SKU: GCP4RA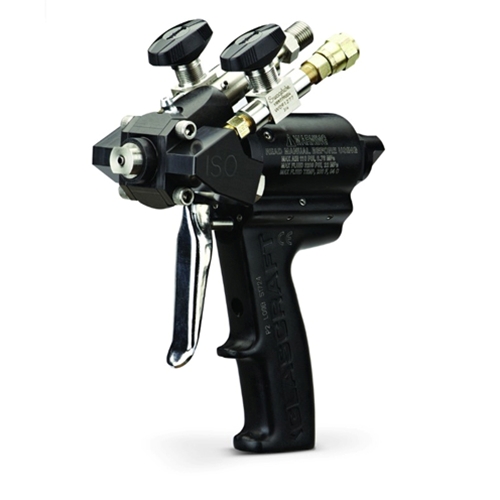 We have experts waiting to help you with any questions you may have.
866-652-9975
PRODUCT DESCRIPTION
Probler P2 Automatic Graco Gun GCP4RA
The GCP4RA Graco Probler P2 for spray foam and coatings takes us back to where it all started – the original GlasCraft Probler P2 auto line up, with capabilities for precise application of foam and plural component coatings. The GCP4RA features the automatic Probler P2 spray gun, as well as the GC250A mix chamber and the GC251A mix chamber insert. Designed to spray .4 GPM of polyurea or 3 LBs / minute of foam insulation, the GCP4RA delivers a 5 inch pattern at the 24 inch application distance.
At the foundation of the automatic Probler P2 are several user friendly / maintenance friendly features, that make this a contractor favorite addition to any foam insulation or coating equipment line up. The Probler P2 gives access where other spray guns fall short, allowing for easy handling and increased user comfort. The light weight design promotes better control and precision, and combined with the ergonomic handle design, you can get into tight spots and spray for longer periods without cramping or fatique.
Other favorite features from the Probler P2 by Graco include advanced maintenance technology – One of the only guns on the market that virtually eliminates the risk of material entering into and causing damage on the air piston. Check valves provide an essentially perfect anti-crossover design environment – The dry side of your gun stays dry. Get rid of those tiny drill bits and forget about meticulous cleaning of the small air passage ways. The two piece mix chamber and insert make maintenance and swapping out simple as well.
Enjoy the auto features of the GCP4RA Probler P2 – meet the demands of the growing number of applications for foam insulation and coating equipment that require robotic processing. The P2 features two air ports in the head allow you to start and stop automatic spraying sequences programmatically. Order you GCP4RA today, or browse the full line up of automatic Probler P2 spray guns today at
Intech Equipment and Supply.
Operation Manual: 313213
Brochure: 300615

GCP4RA
- GC250A w/ GC251A 5 in (127 mm) 0.4 gpm 3 lb/min