edp16haz with wheels
SKU: EDP16HAZW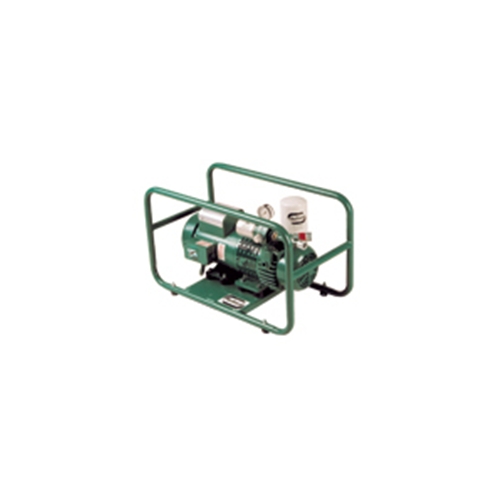 We have experts waiting to help you with any questions you may have.
866-652-9975
PRODUCT DESCRIPTION
Bullard EDP16HAZ Free-Air Pump
The EDP16HAZ is the Hazardous Duty model of the
EDP16TE
Bullard Free-Air Pump. The added protection of the hazardous duty style enclosure meets CSA and UL approval requirements. This pump can provide air for two or three people on a jobsite, dependent on the respirator style being worn. For a Hooded-style respirator, the EDP16HAZ can supply air for two and for half mask respirators or full mask respirators, the EDP16HAZ can give air for three individuals.
Designed to be easily portable, the EDP16HAZ weighs only 98 pounds and has wheels as well as handles to make transport as easy as possible. At a 14 inch width by 28 inch length, the pump takes up very little space in your truck or rig. The oil-free operation and overall design means you do not need OSHA Carbon Monoxide alerts and this also does not require temperature alarms to monitor high temps or airline filters. Set up is a breeze as well, and the unit can be mounted to a wall or ceiling, but does not need to be bolted down for stability.
With the Bullard Line of Free-Air Pumps, the EDP16HAZ boasts the ability to provide air from up to 300 feet across the jobsite, and is compatible with any standard supplied air respirators. Simply verify that the CFM pump output is sufficient enough to operate the respirator, easily done by checking your owners' manual.
Initial set up is fast and easy, first attaching the pressure gauge, followed by a quick check of the outlet filter cartridge and then the final check that air can not get out- the inlet filter, outlet couplings and pressure gauge are all secure and tight. As with all Bullard pumps, when the time comes for service or modifications, Bullard provides complete parts and repair instructions. Choose the Bullard EDP16HAZ for hazardous duty at Intech Equipment and Supply today!