Milwaukee Tools 110 Corded Foamzall
SKU: FOAMZALL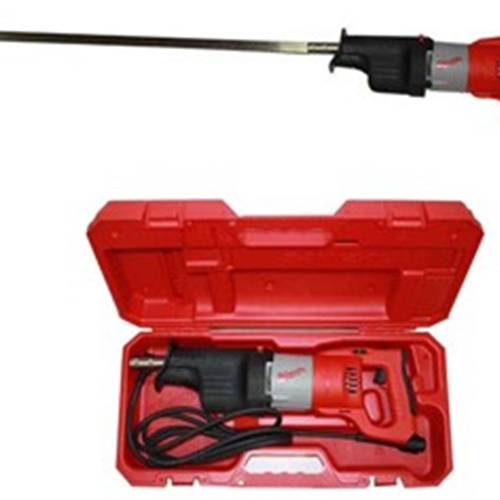 We have experts waiting to help you with any questions you may have.
866-652-9975
PRODUCT DESCRIPTION
Foamzall by Milwaukee Tools
The Sawzall by Milwaukee Tools is a staple piece of equipment on many job sites, so it's no surprise that the model created specifically for use within the spray foam insulation industry is also a hit. The Foamzall is a life saver for any insulation contractor who needs to trim out foam. This saw has been built using the strongest and toughest orbital Sawzall that Milwaukee makes, featuring 360 degrees of rotation in the handle.
The custom coupling on the Foamzall is designed with the ability to attach a 36 inch serrated blade that is perfect for trimming half-pound to two pound spray foam. Powered by a 13 Amp motor, this tool gives you up to 3,000 strokes per minute- translating into faster project timelines and quicker results. The speed control settings allow for five different options, and blade accommodations include both 24 inch and 36 inch blades for half pound foam, and 30 inch blades for 2 pound foam.
Milwaukee's Foamzall 110 model is a 110 volt corded saw, with a protective carrying case included in each order.
Foamzall blades
are sold separately for each model, and in addition to varying sizes- can also be ordered for use with both closed cell and open cell foam.
Streamline the spray foam trimming process during each insulation job, and trust your investment in the Milwaukee Tools Foamzall. Their track record spans almost 9 decades, and they have continually displayed quality parts and products that can be relied on for heavy duty and demanding use. For additional information or for product troubleshooting, please contact our staff of experts. We can provide product and repair support, as well as additional information and recommendations for any piece of
spray foam equipment
you may need. Continue shopping the Intech Equipment and Supply online store!
FOAMZALL DOES NOT COME WITH BLADES - BLADES ARE SOLD SEPARATELY