30 gallon drum heater
SKU: BH30-RR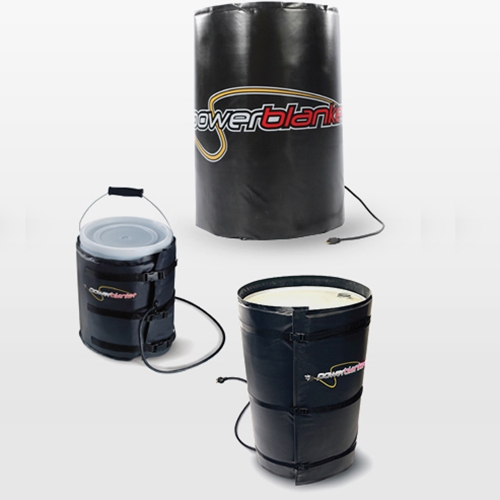 We have experts waiting to help you with any questions you may have.
866-652-9975
PRODUCT DESCRIPTION
Drum Heater for 30 Gallon Drum
The BH30 RR Powerblanket drum heater features built in temperature control with an internal preset temperature, providing heat up to 100 degrees Fahrenheit for a 30 gallon drum (114 Liter). Weighing 9 pounds and measuring 19 feet roughly in diameter and 30 feet roughly for height – this drum heater is unique in that storage, transport and set up are simple and fast. The RR series of drum heater sizes by Powerblanket feature Rapid Ramp heating technology that will get materials up to temperatures faster.
Protect your materials during the heating process, and eliminate waste from burning or from heat lacking and effecting material performance. The Rapid Ramp technology keeps downtime to a minimum, and evenly distributed heat ensures that the whole surface of the 30 gallon drum is evenly warmed, eliminating cold spots. The insulated design full wraps the 30 gallon drum, and can be used on both poly drums and steel drums. For additional drum heater sizes – shop
the Intech Equipment and Supply Powerblanket
lineup.
The key to the Powerblanket Drum Heater series, and the reason the value is unmatched in the industry – is the three heat zone design that delivers heat evenly and will automatically adjust as fluid levels change. If the drum is emptying or refilled, heat is then distributed accordingly around the 30 gallon drum. This saves time and is a more efficient means – while also ensuring hot and cold spots do not damage your materials, your drum or your drum heater.
Order the BH30RR or browse alternative heating solutions by Powerblanket at Intech Equipment and Supply online. Trust your materials and your job site success to Powerblanket and patented Green Heat Technology.
30 gallon drum - Rapid Ramp 100°F (fixed) ± 10° F 120 V 280/ 560 Watts 2.33 /4.67 Amps