tote heater 330gal
SKU: TH330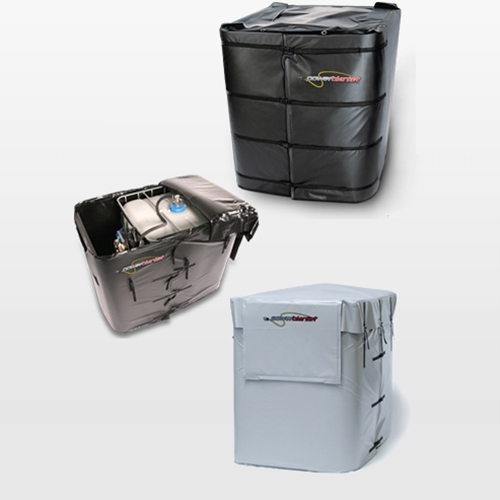 We have experts waiting to help you with any questions you may have.
866-652-9975
PRODUCT DESCRIPTION
TH330 Tote Heater 330 Gallon
Forget what you know and use for heating methods on the job site, and put Powerblanket to work for better heat delivery and easier temperature control. Advanced GreenHeat technology delivers heat more evenly, but without a complicated set up and operation process – Essentially the best of both worlds with Powerblanket!
The TH330 IBC (Intermediate Bulk Container) Tote Heater provides uniform heat delivery, bringing a wide variety of materials to manufacturer recommended temperatures. Arguably one of the most critical aspects of the application process – Temperature prepping in the past has been a challenge to say the least. Powerblanket set out and achieved alternative heating solutions that are economical, efficient and ultimately deliver a great value.
With a TH330 Tote heater, an adjustable digital thermostat gives you temperature control – Heat materials up to 145 degrees Fahrenheit (Plus or minus 5 degrees). The fully insulated, fully wrapped design reduces heat waste, and even heat distribution ensures that materials do not have hot and cold spots. This solves a multitude of issues seen with other heat systems, as both over heating and under heating materials can cause issues and delays during the application process. Even heat delivery providing the proper temperatures maintains desired viscosity, prevents separation and also reduces equipment issues during the actual application process.
With all Powerblanket equipment, not only are you getting a better heat source and protecting your material investments, but also reducing time spent on heating equipment set up and maintenance. With the TH330 tote heater and additional Powerblanket equipment, set up is simple and the heat equipment was designed to be easily transported from job to job to maximize use.
Order the TH330 Tote Heater at Intech Equipment and Supply for expert service and support, and a great price tag.
Browse
all Powerblanket heating equipment, spray foam equipment and more online today!
330 gal (4' 6" x 14' 6") 120 V 1,440 Watts 12.00 Amps