20lb gas cylinder warmer
SKU: GCW20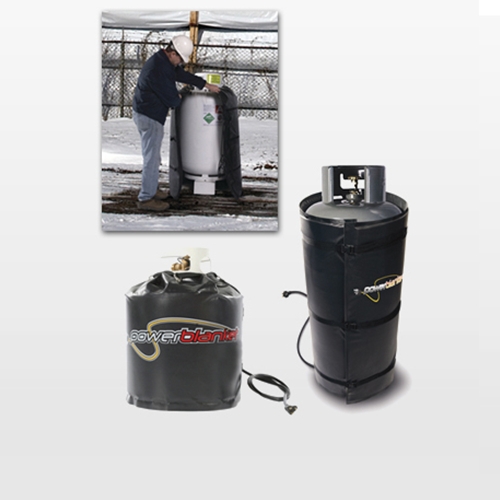 We have experts waiting to help you with any questions you may have.
866-652-9975
PRODUCT DESCRIPTION
Powerblanket 20 LB Gas Cylinder Heater
A cylinder heater for your gas cylinder is not a luxury – it can quickly become a necessity depending on the weather and environment that you are working in, and the materials you are working with. If the temperatures start to decline, not having a cylinder heater on hand can cost you your performance, profits and reputation. With affordable, reliable Powerblanket products, why wouldn't you prepare ahead of time!
Keep your gas cylinder heater operating in peak state – as outdoor conditions worsen and temperatures drop, the efficiency of you gas cylinder will suffer. A heater ensures that proper temperatures are maintained, and work can continue as usually. The 20 LB Gas Cylinder Heater by Powerblanket was made to completely enclose the cylinder, providing an even and dependable heat. Made to adhere to UL, CSA and CE Safety certifications, this cylinder heater can save you money and reduce unnecessary refills in colder weather.
The GCW20 has an internal preset temperature thermostat that can raise the gas temperature to 90 degrees and maintain for the duration of the work day. At just 4 pounds, the cylinder heater can be easily stored when not in use, and set up is a breeze. The exterior is built tough to tolerate the normal wear and tear seen on a job site, and your investment can be further protected with easy repair if the need does arise.
Order the GCW 20 LB Gas Cylinder heater, or browse the full catalogue of Powerblanket alternative heat source products. Featuring Green Heat Patented technology, using Powerblanket products is a smart investment – and having them on hand and prepared can ensure your jobs don't face any unnecessary delays. Keep your jobs running and profitable even in inclement weather, and trust the job to Powerblanket at Intech Equipment and Supply. For additional details, order assistance or custom order questions –
Contact our pros
.
20 LB 120 V 120 Watts 1.00 Amps