30lb gas cylinder warmer
SKU: GCW30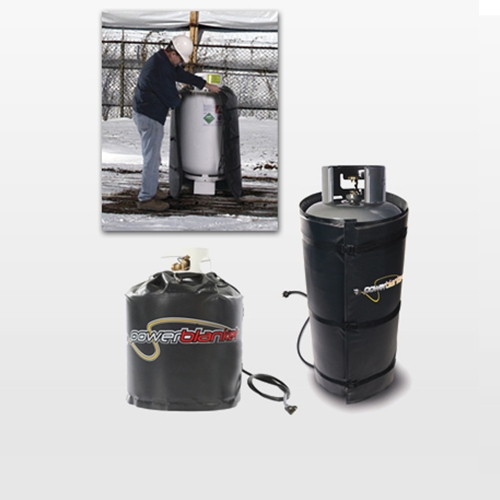 We have experts waiting to help you with any questions you may have.
866-652-9975
PRODUCT DESCRIPTION
Powerblanket 30LB Gas Cylinder Heater
Powerblanket has long been providing numerous industries with heating solutions to essentially offer weatherproofing protection to keep you business running like normal. When the temperatures begin to drop, problematic and costly issues can mean delays in work completion, and damage to your materials. Protect your investments, and choose alternative heating that you can trust day in and day out- Effective and affordable Powerblanket solutions will ensure your jobs continue to run smoothly.
When the temperature begins to decline, the efficiency of your gas cylinder does too if not properly supplied a heating alternative. By getting peak performance out of your materials at the proper temperature, you save now and long term from material waste and damage, not to mention issues during operation processes that could wreak havoc on your reputation. With a GCW30 Cylinder Heater, unnecessary refills of the cylinder are greatly reduced, and the insulated design fully wraps the cylinder. The rugged exterior is tough to hold up against job site abuse, but repair kits are easy and available when the time comes – keeping your initial investment in the field longer.
The GCW30 in UL, CE, and CSA certified. For a max temperature of up to 90 degrees Fahrenheit, the GCW30 cylinder heater operates off an internal preset temperature to deliver consistent, even heat. For construction, roofing, manufacturing and many other industries – a supplementary heat source is definitely on the list of necessities – and with Green Heat technology from Powerblanket, investing in long term material and equipment savings has never made more sense.
Learn More about Powerblanket
heat products
, order the GCW 30 Cylinder heater, or place a custom order – All with Intech Equipment and Supply. Shop conveniently online or contact us for additional information and assistance.
GCW30 Cylinder Heater
30 LB Cylinder 120 V 160 Watts 1.33 Amps