100lb gas cylinder warmer
SKU: GCW100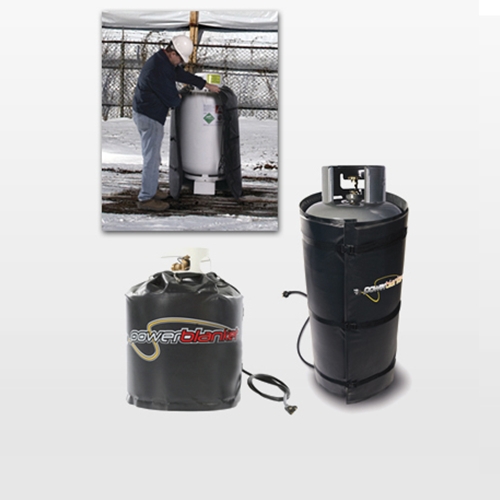 We have experts waiting to help you with any questions you may have.
866-652-9975
PRODUCT DESCRIPTION
Gas Powerblanket 100 LB Cylinder Heater
If you are using a gas cylinder in an unpredictable or otherwise colder climate, than a heater is not a luxury, it is a necessity. When the temperatures begin to drop, the efficiency of a gas cylinder also drops as well – Costing you both time and resources unnecessarily. The solution is simple with Powerblanket heating equipment!
The Powerblanket GCW 100 is a gas cylinder heater, designed to enclose the cylinder, minimizing the harsh effects of cold temperatures and subsequent decline in efficiency. You save money by optimized gas or material performance, and in labor from reducing refills and cylinder swaps. The Fully insulated wrap design is simple to install or remove, and easy to store when not in use. Rugged to withstand normal wear and tear – and Powerblanket repair kits make it easy to cover any rips or wear to ensure the use life is maximized.
The GCW 100 is UL , CE, and CSA Certified and has an internal preset temperature thermostat type. Operate up to 90 degrees F, or 32 degrees C. This cylinder heater is designed to fit a standard 100 pound gas cylinder, the cover measures 14.5 inches around and 48 inches high. Weighing in at just 12 pounds, one individual can easily move and apply the cylinder heater – And storage is easy in between use.
Keeping your fuel at proper temperatures ensures optimum vaporization and pressure to ensure your operations continue without issue. Powerblanket heating alternatives are an affordable, reliable and efficient way to maximize all of the time on a job site or during a regular work day – regardless of the temperature outside. Order a cylinder heater and more by
Powerblanket
at Intech Equipment today!
Powerblanket FCW100 – Cylinder Heater for 100 LB tank - 120 V 550 Watts 4.58 Amps