420lb gas cylinder warmer
SKU: GCW420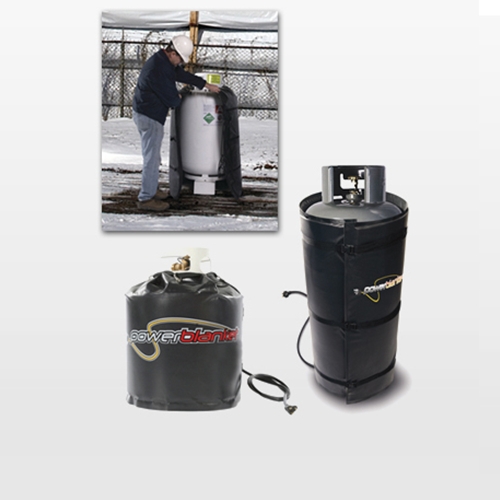 We have experts waiting to help you with any questions you may have.
866-652-9975
PRODUCT DESCRIPTION
Powerblanket 420LB Gas Cylinder Heater
In any varying climate – We can try to deny the inevitable but the day will come where the temperatures drop, and the effect on your business can be costly if you are not prepared! Ensure that your business continues un-interrupted by having the proper alternate heating equipment to supplement the cold weather temperatures and to keep your materials performing in top shape. With Powerblanket, eliminate all of the guesswork – and select industry leading equipment that is both simplified for easy use but innovative to provide better heating, for a better price.
The Cylinder Heater line includes the largest 420 LB tank design, operating from an internal thermostat preset temperature – Bringing your materials within plus or minus 5 degrees with a max temp of 90 degrees Fahrenheit. Even as one of the larger standard cylinder heater options, the GCW420 still weighs in at only 18 pounds – comfortably allowing one to carry and set up alone.
The design of the GCW420 cylinder heater is a fully wrapped, completely insulated covering that fits quickly over the gas cylinder. The exterior is tough and will get through the job site wear and tear – and when the time does come to patch a tear or wear – Powerblanket patch kits get you back up and running fast. When using a cylinder heater, you eliminate wasteful refills and increase the performance / vaporization of the gas cylinder – both of which result otherwise from the cooler temperatures. The GCW420, as well as all other Powerblanket Gas Cylinder Heater design are UL / CSA / CE Safety Certified.
Browse Intech Equipment and Supply for a
Powerblanket heating solution
that will work for you. Full size lineups are available in the cylinder heater wraps, as well as for drum heaters, thaw blankets and more. Powerblanket will also customize to meet unique needs, or for hazardous applications.
420lb 120V 960 Watts 8.00 Amps