explosion-proof electric blower- 1570 cfm free air delivery
SKU: SVB-E8EXP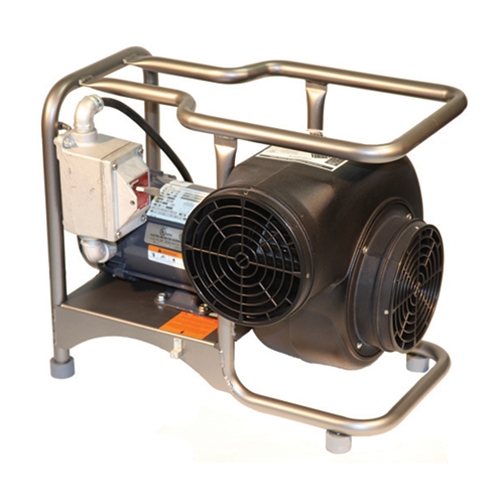 We have experts waiting to help you with any questions you may have.
866-652-9975
PRODUCT DESCRIPTION
Explosion-Proof Electric Blower SVB-E8EXP
Working in a confined space or other environment that is deemed a hazardous location on the jobsite requires additional equipment and safety precautions to ensure that no injury or damage occurs. This can be intimidating, and is often accompanied by an array of worry, including budgetary issues and equipment considerations. With the Air Systems International line of hazardous location equipment for ventilation, you can meet your quote and your deadline. This economical yet highly rated equipment for breathing air solutions provides for the safety you need and at the price tag that you desire.
With the SVB-E8EXP, you get an electric blower that is rated for safe operation in a hazardous location. Unlike traditional ventilation equipment, this blower has the explosion proof switch that comes installed standard, and wired including a 25 foot cord. Without plug included, the unit is wired per NEC regulations and is approved for Class 1 division 1 (Groups C, D) as well as Class 2 Division 1 (Groups E, F, G). Powered by a ¾ HP motor providing 114 VAC and 12.6 amps, the SVB-E8EXP provides for 1570 CFM Free air delivery.
The polyethylene housing around the fan is conductive, and the static lug for grounding comes pre-installed on this electric blower. Additional safety considerations include the non-spark blower wheel made from aluminum as well as the safety guards. The design is rounded out with the steel frame (powder coated) as well as the 8 inch intake/exhaust flanges.
Order your SVB-E8EXP electric blower for ventilation in a confined space deemed as a hazardous location. Get your jobs done on schedule and within budget, while enjoying the comfort that accompanies the Air System's name within the industry. With almost three decades of manufacturing experience coupled with extensive knowledge and certifications regarding industry safety regulations, Air Systems provides a
complete line up
of ventilation and solutions for providing clean breathing air.