pneumatic air powered blower-1725 cfm free air delivery at max psi and cfm
SKU: SVB-A8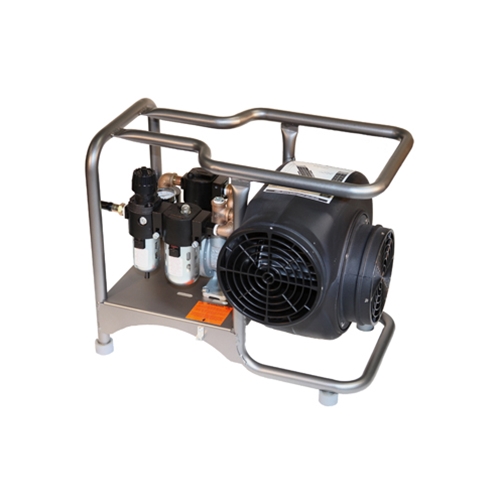 We have experts waiting to help you with any questions you may have.
866-652-9975
PRODUCT DESCRIPTION
Intrinsically Safe SVB-A8 Pneumatic Air Powered Blower
With the SVB-A8 Pneumatic air powered blower by Air Systems International, you get intrinsically safe operation at a great price tag for your hazardous confined space work. The SVB-A8 features an industry leading line up of safety and design components that will provide you with a great return on your investment. Built to stand tough and hold up against normal wear and tear on a daily job site, the SVB-A8 is another great example of equipment solutions by the folks at Air Systems International.
Safety features include limited ignition energy, providing an intrinsically safe classification for hazardous work. The unit operates extremely quietly, and under a level of 80 DBA. The 4 horsepower air motor provides a range of operation, from 10 – 100 PSI. The polyethylene housing around the fan itself is conductive, and the non-spark blower wheel is made of a strong aluminum. Conductive molded safety guards are also put in place and the grounding lug is installed standard. The flow output of the SVB-A8 is adjustable, and other unique features include the inline separator that provides a moisture separator and provides lubrication. The Air System's designed muffler / oil coalescing filter is also installed standard at the motor discharge.
Purchase the SVB-A8 separate or as part of a
kit that includes
the full Saddle Vent ventilation set up. With the SVB-A8, depending on your set up – Free air delivery ranges from 1040 to 3000 CFM. For specific operational and application information, contact the pros here at Intech Equipment and Supply for assistance.
With Air Systems International, you are not sacrificing low prices for the quality of your equipment. Their extensive experiencing in designing and refining ventilation equipment allows them to provide solutions for both hazardous and non-hazardous confined space work, at a reasonable price. Browse their entire line up today, order online or call to speak with one of our experienced representatives that are available to assist you!