economy electric blower-1390 cfm free air delivery
SKU: SVB-E8EC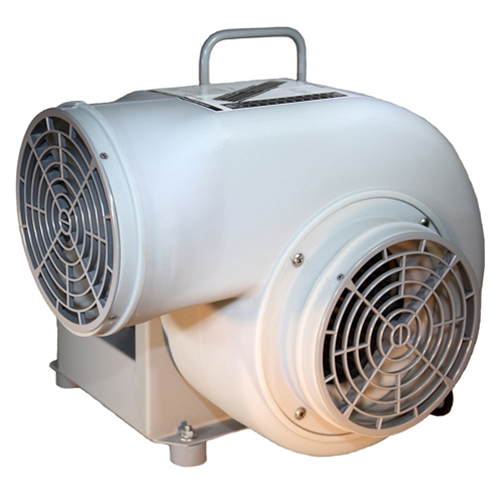 We have experts waiting to help you with any questions you may have.
866-652-9975
PRODUCT DESCRIPTION
Economy Electric Blower-1390 CFM, Free Air Delivery
Confined space ventilation simplicity is seen firsthand in the Economy Electric Blower SVB- E8EC, manufactured by Air Systems International. CSA tested to meet OSHA electrical certifications (29 CFR, 1910.303 (A) as well as 1910.7) this electric blower runs off ½ horsepower electric motor (9 Amps) that is totally enclosed and cooled by fan. The GFI power cord is easy to accommodate on virtually any jobsite, and the compact size (17 inches long by 17 inches wide and 18 inches high) means you have complete flexibility to move this blower around the job as needed and to store in between. The unit itself is protected by the fan housing, and added molded safety guards, both made of polyethylene. The standard is 1390 CFM free air delivery, 973 CFM with 25 feet of ducting and a single 90 degree bend.
Designed to be used with the Air Systems International Saddle Vent – a Patented solution providing countless saved hours versus a traditional ventilation set up seen in confined space work. The Saddle Vent does not require manual adjustment at the confined space entry, and as a result provides for a one-time set up on the job. This eliminates potential human error as well as damage to your ventilation equipment while allowing more natural light to pass into the space. Browse the full Air Systems line up, including Saddle Vent, replacement filters, parts, and more conveniently from your home of office.
With the SVB- E8EC Blower we get a great price tag along with all the experience that Air Systems International brings to the table. With a large product line covering both hazardous and non- hazardous confined space solutions, as well as additional breathing air and ventilation systems, compatibility and kits make your entire line up selection easier. As always, for compatibility or application specific information, or industry regulations, contact an
Intech pro today
!