single speed electric blower - 1570 cfm free air delivery
SKU: SVB-E8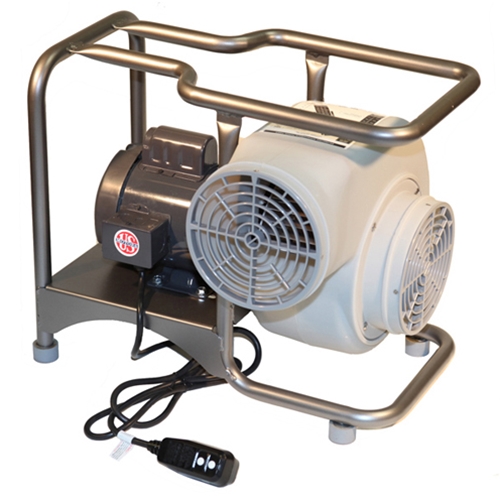 We have experts waiting to help you with any questions you may have.
866-652-9975
PRODUCT DESCRIPTION
SVB-E8 Single Speed Electric Blower
For an industrial grade, heavy duty electric blower for ventilation in a non-hazardous space, the single speed SVB-E8 is an economical and efficient solution. As part of Air Systems International's electric blower line up, the SVB-E8 has received CSA testing and meets OSHA 29 CFR electrical certifications (1910.303A and 1910.7). You can purchase the Non- hazardous SVB-E8, or its
counterpart
for explosion proof operation in hazardous locations, right here at the Intech Equipment and Supply online store.
With the SVB-E8 electric blower, you get a ¾ horsepower motor that is completely enclosed and fan cooled (TEFC) with 10.8 amp, 115 VAC, 60 Hz. The GFI power cord can typically be easily accommodated on most jobsites, and the 8 inch intake and exhaust flange allow for easy compatibility with your ducting. The durable design is protected by the polyethylene housing that surrounds the fan, and the frame itself is built with a powder coated steel. The dual handles and light weigh of only 53 pounds make this an easy blower to set up or move above the job site.
All of the Air Systems International solutions for ventilation in confined space works boast unique features key to economical and safe operation on your jobsites. With decades of manufacturing and regulatory expertise, you get a ventilation solution at a price that won't break the bank.
Purchase the SVB-E8 single speed electric blower alone, or as part of a kit that includes the full Saddle Vent set up, Air Systems' patented confined space ventilation kit. Addition blower models are also available, including two speed, gas powered, and propane operated blower versions. Make your selection and order through our online store, or give us a call to walk through your unique needs and product selection options. Our access to manufacturer resources coupled with extensive industry experience can be put to work for you! Make the right choice without sacrificing for quality or an expensive price tag.