contractor grade ac canister ventilation fan
SKU: CVF-15ACAN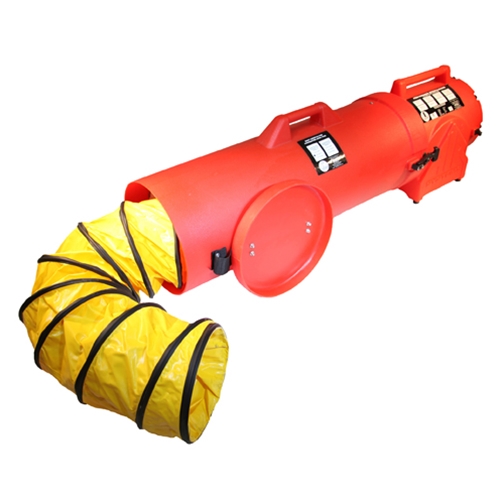 We have experts waiting to help you with any questions you may have.
866-652-9975
PRODUCT DESCRIPTION
Contractor Grade AX Axial Fan with 15 foot Duct Canister
The Air Systems International Contractor Grade Ventilation Fan series combines form and function to promote the toughest jobsite ventilation equipment. Construction orange and protected by a polyethylene design, this fan can take a beating on the job and still perform to keep you and your crews safe while saving you money. The CVF-8AC Axial Fan is part of a group of new additions to the Air Systems line up, perfected and modified based on user feedback and decades of design and manufacturing expertise. The rugged design eliminates the worry of using, transporting and storing this axial fan, and fast set up means you are on the job and making money in record speed.
With the contractor grade AC Axial Fan, you also get the 15 foot duct canister, included for one simple to order package. This set up is also compatible with the Air Systems International Saddle Vent system as well! With the Saddle Vent, you promote safety and speed, often a rare combination in our line of work. The Saddle Vent was meticulously created to get rid of the typical issues seen in the ventilation of confined space. The Axial Fan itself is ideal for confined space work, as well as multiple other applications in general construction, maintenance and service requiring ventilation solutions.
Air Systems International has been providing solutions for non- hazardous and hazardous jobsite ventilation requirements for almost 30 years. With extensive experience in industry regulations and certifications, put their resources to work for you with Intech Equipment and Supply. Place your order online, or give us a call to discuss you unique needs and come to the best matching ventilation set up. The CVF 15A Can Combo is only part of the extensive lineup of ventilation and air breathing solutions by Air Systems International, as well as by several other
industry leading
providers.