explosion-proof electric ventilation fan
SKU: CVF-8EXP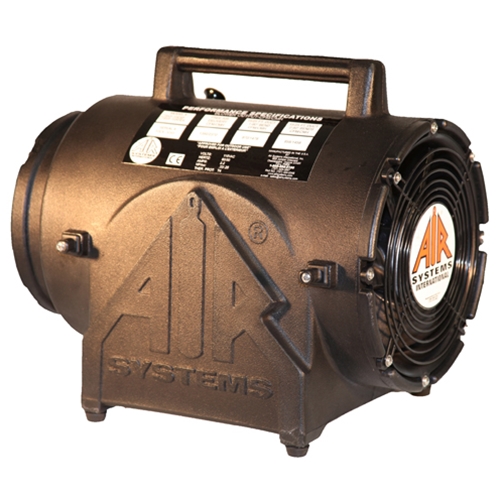 We have experts waiting to help you with any questions you may have.
866-652-9975
PRODUCT DESCRIPTION
CVF-8EXP Electric Explosion-Proof Fan for Ventilation
Part of the contractor series by Air Systems International, the CVF-8EXP provides ventilation or environments classified as hazardous that require additional precautions to prevent ignition or explosion from occurring. Extra durable design coupled with industry leading technology provides a great solution at an even better price for contractors. The CVF-8EXP can be use per CSA/UL approvals in Class I environments, specifically Group C and Group D – As well as Class II environments, Group E, Group F and Group G. The wiring is done per National Electric Code specifications and easy operation provides the user with the increased safety features without the stress of complicated equipment.
For confined space work in manholes, trenching, telecommunications, boilers and more the CVF-8EXP provides 974 CFM free flow supply from an 8 inch fan (1/4HP and 115 VAC). The ten foot power cord gives you flexibility on the job, and the built in off/on switch is sealed, wired per NEC specs and comes without a plug.
The CVF-8EXP also features a more durable build, ideal for the wear and tear equipment experiences on a daily basis on a job site. The Contractor Grade series by Air Systems International is a newer addition to their ventilation line up, providing for longer lasting operation and limiting damage that occurs. Your investment is protected with quality equipment, and the safety of your crews is prioritized with extensive research and certifications from the folks at Air Systems.
Purchase your CVF-8EXP today at Intech, or browse the full ventilation and air solutions line up by Air Systems International in our online store. For both hazardous and non-hazardous worksites, order a
ventilation solution, parts, accessories
and more from the comfort of your office or home. With the experts at Intech, you get access to any industry information as well as equipment details for compatibility and usage applications.