contractors explosion-proof canister fan 15ft
SKU: CVF15CANEX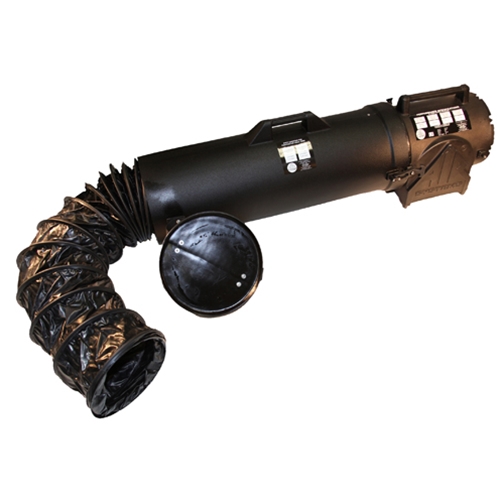 We have experts waiting to help you with any questions you may have.
866-652-9975
PRODUCT DESCRIPTION
CVF15CANEX Hazardous Environment Ventilation
For work in a confined space that requires extra precaution and explosion proof equipment, your life can become very stressful, very fast. Stop your search here with the Air Systems International CVF15CANEX, part of the Contractor Grade Series Product Line, designed and approved for operation in a hazardous environments requiring confined space work. With OSHA/CSA/UL requirements taken into consideration, backed by almost 3 decades of design and manufacturing experience - You can select the ventilation equipment you need, and let Air Systems worry about the details.
The CVF15CANEX set up provides the CVF-8EXP Axial Fan, approved for use in hazardous environments, as well as 15 feet of conductive ducting and conductive canister. With this 8 inch axial fan, you get durability against regular wear and tear on the job, NEC met wiring requirements, and UL – CSA approval for explosion proof environments classified as Class I (C and D) &Class II E, F and G).
Use this CVF15CanEX combination for hazardous environments and explosion-proof set ups for manhole jobs, boiler rooms, transformer work, general maintenance and construction, petrochemical tanks and more. Flexible applications and an affordable price tag provide further value on your investment, but the peace of mind and safety considerations are at the center of every single piece of Air Systems International equipment. For even more simplification, consider
the CVFEX15Kit
for explosion-proof ventilation that includes Saddle Vent confined space set up as well!
Browse the entire line up of equipment for hazardous and non-hazardous ventilation solutions by Air Systems International today. Keep safety and standards the priority without sacrificing extreme budget ramifications by selecting quality equipment that was designed exactly for the contractor like you. Economical, tough, and above all else, up to industry standards for safe operation in a multitude of scenarios that involve work in a confined space.