gasoline powered blower - 1500 cfm min/3000 cfm max free air delivery . with honda 118cc engine.
SKU: SVB-G8-H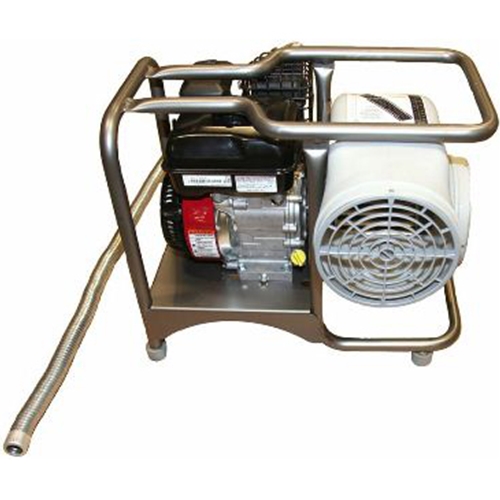 We have experts waiting to help you with any questions you may have.
866-652-9975
PRODUCT DESCRIPTION
SVB-G8-H Gas Blower with Honda Engine
For non-hazardous jobsites, using a ventilation solution may still be required in order to provide air flow and clean breathing air. Seen particularly in confined space work, users require additional air support to ensure a safe working environment. Heavily regulated by CAL and OSHA, if ignored this can cause devastating consequences. For over 28 years, Air Systems International has provided quality equipment for an array of ventilation needs in multiple industries – From general construction and maintenance, to electrical work, manhole work and more – Make Intech Equipment and Supply your one stop ventilation shop.
The SVB-G8-H is part of the equipment line up for gas blowers by Air Systems. An alternative to its' Briggs & Stratton engine powered relative, the SVB-G8-H Features a 4 horsepower Honda Engine. The gas blower itself provides for user safety featuring a 5-foot exhaust hose made of flexible steel, and including a custom muffler that is gas-tight, preventing intake of any CO exhaust.
The external design of this gas blower protects the fan both while in operation and during storage or transport. The user is also protected with the safety guards affixed to the powder-coated steel exterior frame. The dual handles and light weight (53 pounds) give even more user flexibility for set up and moving about the jobsite. Measuring 23 inches long by 12 inches wide and 19 inches high, set up and storage are both made simple.
Keep safety a priority on your worksites without sacrificing for extensive budget demands. With Air Systems International, you get quality ventilation solutions at a price that won't break the bank. For decades their design and manufacturing experience has been trusted in multiple industries, and their experts are extremely well versed with industry regulation. Provide a quality gas blower that will get the job done today and in the future.
Order your SVB-G8-H Honda Engine Gas Blower today at Intech Equipment and Supply! Additional models include the
Briggs & Stratton
engine, as well as a propane engine version. For questions or to discuss and weigh all of your options, call us at Intech today!