pneumatic air powered blower kit - includes svb-a8 blower and sv-cupcnd
SKU: SVB-A8CUP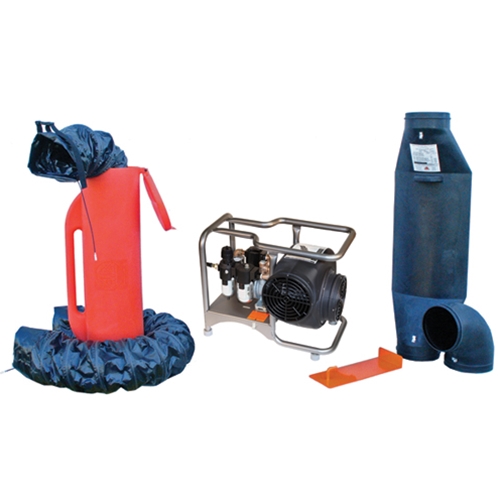 We have experts waiting to help you with any questions you may have.
866-652-9975
PRODUCT DESCRIPTION
Pneumatic Air-Powered Blower Kit SVB-A8CUP
Eliminate compatibility concerns by purchasing your full set up as a kit by Air Systems International. For hazardous location work that demands intrinsically safe operation with an air powered blower – you can simplify your selection process by choosing the SVB-A8CUP kit by Air Systems. The feature focus is the SVB-A8 Pneumatic Air-Powered Blower that boasts an extensive array of features making it ideal of industrial, intrinsically safe operation. The kit is rounded out with the full Saddle Vent set up, giving you back time, money and peace of mind during work in hazardous locations.
The SVB-A8 Air Powered Blower features a four horse power motor that can operate from 10 to 100 PSI. Operation is quiet, under 80 DBA and this blower is CE registered. The body of the fan itself is durable for everyday use in tough environments, with the housing around the fan made is of a conductive polyethylene. The steel frame has a tubular design and is powder coated, also providing two handles for easy carry. This blower has built in adjustable output regulators and an inline moisture separation and lubricator provide built in standard. The unique Air Systems International filter for muffler and oil coalescing is installed at the air motor discharge. Safety features include built in molded guards, static ground lug, and the non-sparking aluminum wheel.
At just 48 pounds, you get a range of 1040 CFM Free Air Delivery to 3000 CFM depending on your jobsite set up. With the Saddle Vent kit components, the SVB-A8CUP makes confined space work safe and simple. The Saddle Vent kit provides the ducting, canister, 90 degree angle and the universal mount all in one simple package. With the Saddle Vent set up, users don't need to adjust the ventilation each time they enter or exit the confined space. Not only does this save valuable time on the job, but it also reduces dangerous human error.
Place your order today for the SVB-A8CUP blower kit, or browse the entire
equipment solution
line up for ventilation by Air Systems International here at Intech.