ac axial fan - 1395 cfm free air delivery
SKU: SVF-8AC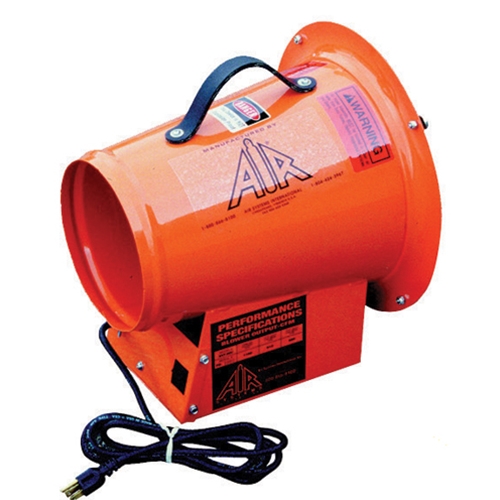 We have experts waiting to help you with any questions you may have.
866-652-9975
PRODUCT DESCRIPTION
AC Axial Fan for Saddle Vent Ventilation Setup
For a location or jobsite that is not classified as hazardous, the SVF-8AC Axial fan is a great solution for a one-piece ventilation setup. As a CSA approved unit, the Air Systems International AC Axial Fan version has 1/3 Horsepower and 115 VAC. The 8 inch outlet comes standard, and production is 1395 CFM of free air delivery. Weighing just 22 pounds, this is a great addition for even a stand by equipment line up as it is both economical and functional by design.
Working with the Air System's Saddle Vent, this AC Axial fan can provide sufficient air for a confined space. The Saddle Vent system itself is designed to be easy to use, and provide for easy access in and out of the entry point of the confined space. This eliminates the wasted time seen with alternative systems that require the ducting at the entry point to be adjusted in order for a worker to enter or exit. Each time the adjustment needs to be done equipment requires repositioning and then inspection to ensure that the system functions as intended. With the Saddle Vent set up, you get easy access and even more natural light since less space is taken up at the entry point.
Shop the entire
product lineup
for air solutions by Air Systems International here at Intech Equipment and Supply. From confined space work to so much more, the extensive selection is sure to meet every jobsite demand that comes your way. Trusting your crews safety to a manufacturer with over 28 years experience only makes sense, and in doing so with Intech Equipment you receive additional support and access to manufacturer resources. Place your order online, or visit us at one of our locations across the US. Our experts are available to assist by phone and in person to make sure you make the right choice, every single time you order.