dc axial fan - 1170 cfm free air delivery
SKU: SVF-8DC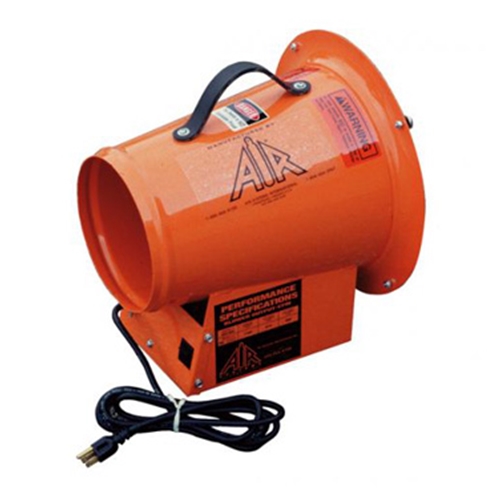 We have experts waiting to help you with any questions you may have.
866-652-9975
PRODUCT DESCRIPTION
SVF-8DC Axial Fan
Looking for an alternative to the AC Axial Fan? Choose the Air Systems International SVF-8DC axial fan, compatible with the Saddle Vent Ventilation set up. This 12 volt DC powered fan has ¼ horsepower and 19 amps. The 8" diameter provides 1170 CFM of free air delivery. Featuring a 20 amp, in-line fuse holder and 10 foot power cord- you are ready for fast set up and go, weighing in at just 22 pounds.
Designed to work with Air Systems' duct canister system, the DC axial fan can be used to provide ventilation for confined space work in a non-hazardous environment. The lightweight design is easy to transport but tough enough to get the job done and withstand the daily abuse seen on a jobsite. This is great for man hole work, boiler rooms, electrical transformer work, general construction and maintenance applications and so much more!
The SVF-8DC is compatible with the Saddle Vent set up as well, which is designed to make work in a confined space safer and more streamlined. With the Saddle Vent, entry and exit does not require equipment to be moved or re-adjusted, cutting down on accidental oversights and issues seen commonly with alternative solutions.
Purchase your SVF- 8 DC fan separately or as
part of a kit
– either way receiving the quality design and great price tag that Air Systems International has come to be recognized for in the industry. Combining extensive regulatory knowledge with decades of manufacturing experience, you get the best in performance and budget with Air Systems at Intech Equipment. For additional confined space solutions, and extensive product line ups for spray foam equipment, traditional roofing, PPE and so much more – Shop the entire Intech Equipment and Supply Online store. Convenience at your fingertips, backed by experts in the industry that can assist you from start to finish!