economy 8" electric blower kit
SKU: SVB-E8CUP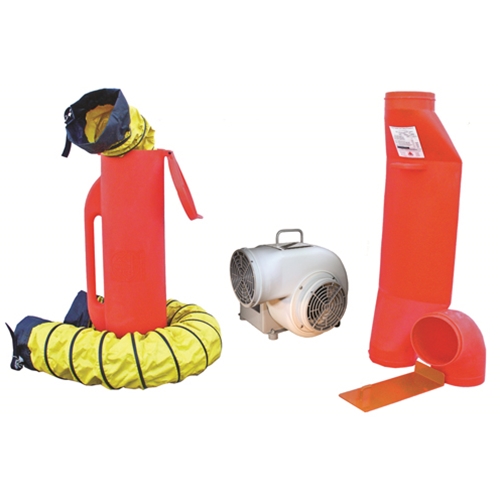 We have experts waiting to help you with any questions you may have.
866-652-9975
PRODUCT DESCRIPTION
Economy 8" Electric Blower Kit
Stop your search for simplicity in ventilation for confined space work here at Intech Equipment and Supply with the SVB-E8CUP kit by Air Systems International. Powered by a ½ HP economy electric blower, and streamlined by the patented Saddle Vent technology, you get more safety and less budget demand in one easy kit purchase.
The SVB-E8EC electric blower provides ventilation featuring a steel blower wheel, GFI cord, tough polyethylene fan housing, an 8" intake/exhaust flange and a powder coated steel frame. As with all Air Systems International electric blowers, the unit has been tested for CSA approval to meet OSHA related electrical certifications. Couple that with the Saddle Vent technology and you are knocking out regulatory and time demands with one simple purchase.
The Saddle Vent ventilation system included in the kit has been improving confined space operation for over 20 years. Taking up less space at the entrance, the Saddle Vent doesn't require ducting to be removed in order to allow a worker to get into or out of the confined space. Continuous ventilation is uninterrupted, and risk of error is reduced due to less handling. You get the Saddle Vent, 15 feet of ducting, a 6 foot duct with protective canister, universal mount and the 90 degree SV elbow.
For an easy electric blower combination to provide ventilation for your confined space work, the SVB-E8CUP kit is a great solution. Economical yet with increased safety considerations, you get the best of both worlds without having to worry about compatibility or proper function concerns. Air Systems International has almost three decades of extensive design, manufacturing and regulatory experience that goes into every single
piece of equipment
. You have enough to worry about, isn't it time you crossed confined space ventilation off the list? Make safety and productivity your top priorities now at Intech Equipment and Supply!