standard 8" electric blower kit
SKU: SVB-E8SCUP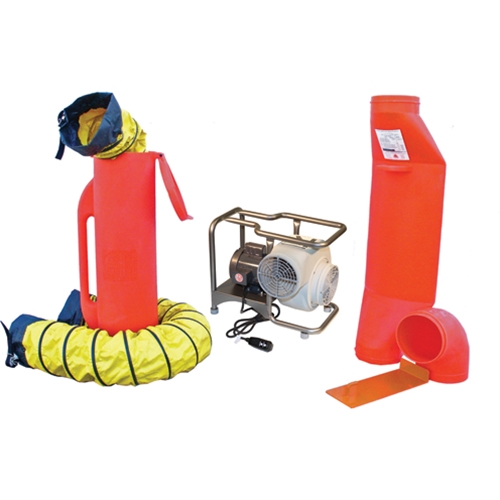 We have experts waiting to help you with any questions you may have.
866-652-9975
PRODUCT DESCRIPTION
8 Inch Electric Blower and Saddle Vent Kit
Streamline your ventilation needs with this comprehensive kit from Air Systems International. One stop shopping for confined space ventilation, at a great price point at Intech Equipment and Supply! The SVB-E8SCUP Kit includes Air System's 8 Inch electric blower as well as the full saddle vent set up.
The Industrial duty 8 inch SVB-E8 electric blower is designed to provide ventilation for a non-hazardous location. A single speed, ¾ horsepower motor meets OSHA 29 CFR, as tested by CSA (Meets certifications for 1910.7 and 1910.303A). An Additional explosion proof version is also available for work in hazardous locations.
The SVB-E8
electric blower
is TEFC with 115 VAC, 10.8 amps and 60 Hz. Comes standard with a GFI power cord and 8 inch exhaust/intake flange. The enclosure around the fan itself is made from polyethylene for even more protection to the unit, and more durability on the jobsite.
The SVB-E8SCUP Kit includes the 8 inch electric blower as well as the full Saddle Vent Ventilation set up, a patented system designed by the folks at Air Systems International. The Saddle Vent was meticulously designed and tested to allow users unrestricted exit and entry when working in a confined space. Taking up only a mere 3 inches at the opening, this also allows for more light to reach into the confined space. For the last twenty years, the Saddle Vent has been used around the world – Cutting labor time and increasing safety on a work site. Also included in the kit is 15 feet of ducting, an additional 6 foot run of ducting, the duct canister, universal mount and the 90 degree elbow to complete your Saddle Vent set up.
Order your SVB-E8SCUP Kit today at Intech Equipment and Supply or browse the entire line up by Air Systems International for ventilation solutions for both hazardous and non hazardous confined space work.