gasoline 8" blower kit
SKU: SVB-G8CUP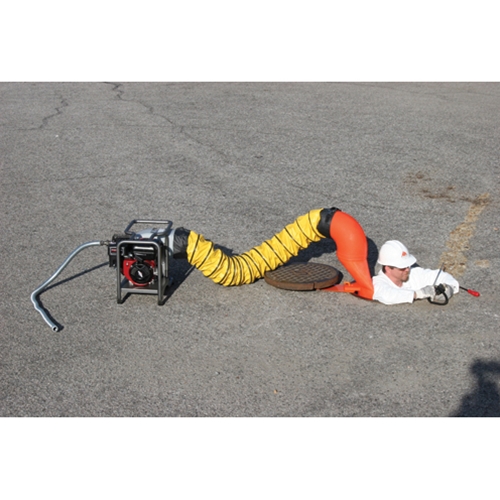 We have experts waiting to help you with any questions you may have.
866-652-9975
PRODUCT DESCRIPTION
8" Gas Blower Kit SVB-G8CUP
For an alternative to an electric blower, use the SVB-G8CUP for ventilation of a confined spaced classified as non-hazardous. The SVB-G8CUP kit provides the full set up in one easy, affordable package. This gas blower has been ergonomically built by the pros at Air Systems International, putting over 28 years of design and manufacturing experience into an industrial grade, heavy duty ventilation solution.
Featuring a 127 CC Briggs & Stratton motor that provides roughly 4 horsepower, the SVB-G8 centrifugal blower meets CAL and OSHA standards for emissions. This unit is also available with an optional Honda engine, or a propane engine by Briggs and Stratton. The unit design itself features a 5-foot flexible steel exhaust that has a custom muffler made to be gas-tight and prevent CO intake.
The SVB-G8 is rugged and protected by a polyethylene housing and molded safety guards. The frame is a powder coated steel, has double handles for easy maneuvering and is easy to carry weighing in at only 53 pounds.
The SVB-G8CUP Kit gets you the
gas blower
, as well as Air System's proprietary Saddle Vent set up. Including the 90 degree SV elbow, 15 feet of ducting, 6 feet additional ducting, the duct canister and the universal mounting kit. With the Saddle vent, confined space work has never been easier or safer. Designed to minimize adjustment and movement at the entry of a confined space, the saddle vent hugs the edge only taking up 3 inches at the entry point. This eliminates the need to move your ventilation set up each time a worker enters or exits, thus cutting down on dangerous or costly human error. Kits are also available to accommodate electric blowers as well here at Intech Equipment and Supply!
Order your SVB-G8CUP standard kit or call us today to select the Honda engine or propane version. Our experts are available to assist with order as well as product selection questions.