venturi blower
SKU: ASI-2900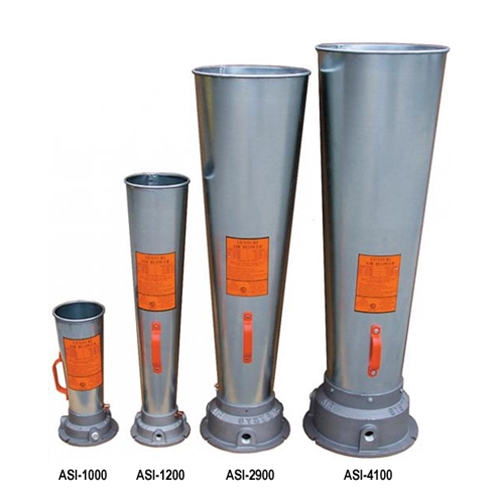 We have experts waiting to help you with any questions you may have.
866-652-9975
PRODUCT DESCRIPTION
ASI 2900 Venturi Blower
The ASI – 2900 Venturi Blower, also known as an air horn or eductor, is designed to safely provide ventilation for a confined space – particularly an underground storage tank that requires fumes and hazardous vapors to have proper ventilation in order to maintain a safe operational environment. The ASI – 2900 is part of the family of Venturi Blowers by Air Systems International, compatible with more storage tanks with an adaptor flange that fits right onto the tank itself.
Operating by steam or by compressor with a shut off valve, the ASI 2900 has no moving parts and at only 44 inches long, can fit into most work spaces easily. Safe for use in areas with high heat, the galvanized steel horn sits atop a cast aluminum base – both functional and lightweight at only 22 pounds. Replacement parts are also available for the horn, and air inlet fittings are sold separately as well as the adaptor piece.
With the ASI – 2900 you get 2770 CFM air flow at 50 PSIG, 3340 CFM air flow at 70 PSIG and 3752 CFM air flow at 90 PSIG. The static ground lug is standard, as is the API standard base size. Custom mount kits are also available.
With Air Systems International, you get quality and simplicity at a price tag that doesn't require a small fortune. Hazardous location work sites can prove to be challenging, but with the proper equipment safe and productive work can be accomplished. Boasting over 28 years of manufacturing and design experience, the Air Systems experts are well versed in both operational and regulation standards.
Shop the full line of Venturi Blowers and much more for
confined space ventilation
here at Intech Equipment and Supply. Eliminate the guesswork with entire set ups designed to provide safe ventilation for either hazardous or non-hazardous confined space work.