venturi blower
SKU: ASI-4100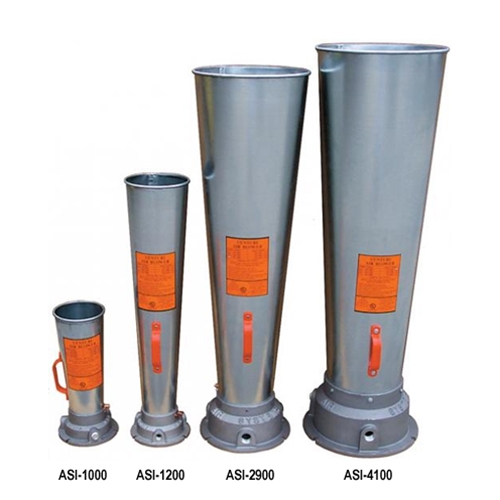 We have experts waiting to help you with any questions you may have.
866-652-9975
PRODUCT DESCRIPTION
ASI 4100 Venturi Blower
In an underground storage tank or other type of confined space housing chemicals, a vapor removal set up is not optional – It provides appropriate conditions within the storage tank while also ensuring a build up of hazardous fumes or vapors does not occur. Promoting safer work environments at a great price, Air Systems International features a full line up of Venturi Blowers, also often known as an air horn or eductor. With a Venturi Blower, the simple design allows flexibility to meet your unique situation and doesn't cost a fortune to do so.
The ASI 4100 is the largest in the line of Venturi Blowers or eductors by Air Systems. Giving 3785 CFM Air Flow at 50 PSIG, 4562 CFM at 70 PSIG and 5041 CFM at 90 PSIG, this light unit can be easily set up with available parts and supplies by Air Systems. Operating on either steam or compressed air, the ASI – 4100 will bolt right onto most storage tanks providing proper air flow.
Made largely of galvanized steel, the air horn itself does not have any moving parts. The base is a cast aluminum that is lightweight, and API standard size. The ASI – 4100 can be used in hazardous locations with high heat as well, and per industry guidelines the static grounding lug comes standard.
The ASI – 4100 is part of an extensive product line up by Air Systems International. Providing ventilation solutions for
confined space work and more
, their reputation has been built upon impeccable design and manufacturing expertise. Economical pricing and extensive regulatory information allow you to provide your crews with the proper equipment to ensure adherence to regulations as well as ultimately a safe work environment.
Shop more ventilation solutions today at Intech Equipment and Supply's online store, or give us a call for additional information or product compatibility questions.