multi-pak large cylinder air cart
SKU: MP-2300ENB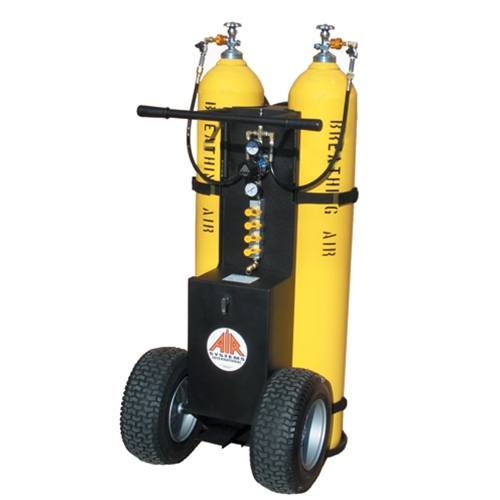 We have experts waiting to help you with any questions you may have.
866-652-9975
PRODUCT DESCRIPTION
Multi-Pak Large Air Cylinder Cart MP-2300ENB

For work sites that require a longer air supply and subsequently a larger air cylinder, the MP-2300ENB is a great solution. Allowing for two large air cylinders to be easily transported around jobsites, the MP-2300ENB provides a range of pressures from 2216 to 4500 PSI. Combining easy user access with mobility and solid ruggedness, this air cylinder cart provides you with a selection of features to choose from, or design your own completely custom cart!

Perfect for hazardous location jobs and more, this air cylinder cart features a pneumatic alarm whistle to notify user of low pressure, as well as recessed controls and a compact design. Some work sites can be difficult to access with other carts, but the MP-2300 ENB allows for easier access in most applications. In addition to providing storage and mobility for larger air cylinders, the MP-2300 ENB also features a storage box to hold tools and equipment while not in use, and the fast-release hose rack can hold up to 200 feet of a 3/8 inch hose. Round all these features out with an aluminum block manifold, 16 inch pneumatic tires, inline check valves, the high-flow adjustable regulator and the input/output pressure gauges, and you have a cart that can get the job done and withstand the normal wear and tear.

Air Systems provides a full line up of small and large carts to safely and easily transport filled air cylinders. Browse online today for accessories, parts and more as well as separately sold air cylinders. For the last 28 years, Air Systems has been providing industry solutions for breathing air equipment for both hazardous and non-hazardous locations. Well versed in practical application and industry regulation, Air Systems provides an extensive library of resources and personalized service to ensure your investment will meet your needs and match your current equipment lineup.