spray foam insulation diy kit 3.0lb - 120 bd ft
SKU: U2-120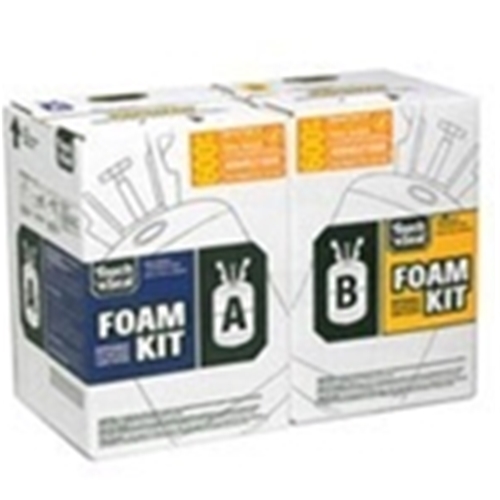 We have experts waiting to help you with any questions you may have.
866-652-9975
PRODUCT DESCRIPTION
Touch N Seal U2-120 Spray Foam Kits
There are several options for spray foam kits on the market today, each designed to meet specific demands in an industry where wear and tear is the norm. The U2-120 by Touch N Seal is perfect for all types of jobs, including residential, industrial, commercial, and institutional sites. 120 Spray foam kits are very easy to use and are self- contained. The Touch N Seal plural component spray foam kits can be used in new applications, but also for repairs in existing work. It is this mixture that blocks heat gain in the scorching summers and heat loss in the cold winters, therefore preventing crazy temperature changes in your home. Insulation delivers comfort and lower energy bills during the hottest and coldest times of the year. You can save up to 20% on your heating and cooling as insulation works best when air is not moving through or around it. For repairs, use the Touch N Seal kit for blisters, pitch pockets, parapet corners and more.
With the Touch n' Seal U2-120 spray foam kits, it is also an ideal spray foam kit for the do it yourself roofer. It is easily used for roofing and touch ups on your home or office roofing system. It is very lightweight and at an extremely reasonable cost, it is exactly what is needed for the do it yourself touch to keep your roof perfect all year round.
Ideal for new roofing applications, repairs and touch ups.
Disposable, portable units
Self contained kit
Less than one minute dry time for spray foam
Comfort grip handle, Rip N Go set up
Faster set up – Pre-connected hoses
No CFC or urea formaldehyde
Clear, color-coded hoses
Yield 120 board feet of 3.0 LB density closed cell spray foam
A board foot is 12" X 12" X 1" thick
Spray foam kits include
A&B cylinders
P2 applicator gun
10' hoses
Extra spray nozzles
Assembly wrench
Latex gloves
Lubricant
Instructions
Order your Touch N Seal spray foam kits online today, or browse the Intech Equipment online store for spray foam equipment and much more!