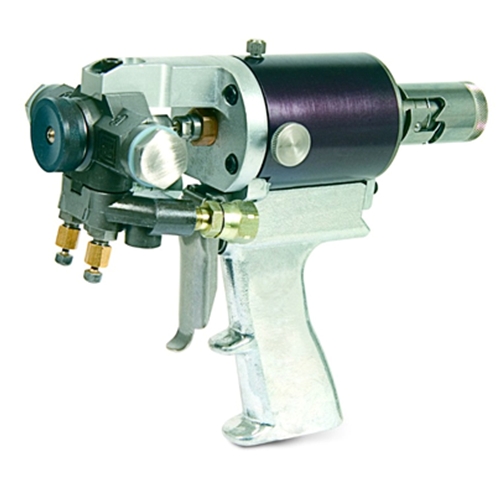 We have experts waiting to help you with any questions you may have.
866-652-9975
PRODUCT DESCRIPTION
GX7 A 5/70 for Spray Foam Insulation
End the hunt for the perfect spray foam equipment right here with Graco at Intech Equipment and Supply. Protect your investment with extensive industry resources, and spray equipment that will last for the long haul. The GX7 features unique design elements and engineering perfection to allow for great results, and equipment that can take the beating that plural component materials dish out on a regular basis. Learn more and select the 295545 GX7 A 5/70 or browse the full GX7 line to find your best fit.
With the GX7, maintenance is simplified and you spray longer when compared to other spray foam equipment. The unique impingement design gives superior pattern and mix control, and the industry leading atomization and mix technology further provides for a higher quality result. Downtime is limited with the easy to clean A B filter and the adjustable air cap. All in all, with the GX 7 results are improved while maintenance is cut to a minimum. For beginners all the way up to seasoned pros, the GX7 provides valuable time savings and dependable results – Invest wisely for your next spray foam equipment purchase!
Put the GX7 A in action on all of your spray foam insulation job sites, and your crews will enjoy better results at a faster pace than ever before. Order the 295545 GX7 A for wall or roof spray insulation, or browse all of the available options more plural component coatings and more. For expert advice and support, contact Intech Equipment and Supply.
295545 Specifications:
Max. Output – 40 lbs/min (18 kg/min)
Min. output - 3.5 lbs/min (1.6 kg/min)
Weight - 4.1 lbs (1.9 kg)
Max. Working Operating Pressure - 3500 psi (240 bar, 24.0 MPa)
295545 - Graco GX7A - 5/70 Gun