2x2 dual voltage 12v/120v 7.92/0.79 amps heating blanket
SKU: EH0202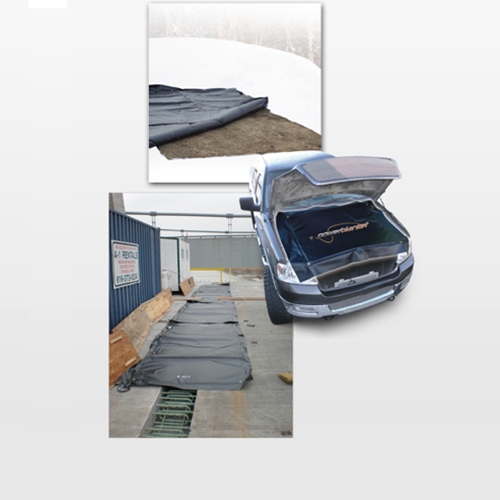 We have experts waiting to help you with any questions you may have.
866-652-9975
PRODUCT DESCRIPTION
EH0202DV Dual Voltage Ground Thawing Blankets
Those of us working in harsher climates that have cold weather impacting our job site operations know the importance of having the proper ground thaw heaters in place. Traditional equipment however can require costly investments, cumbersome set up and difficult storage when not in use – That's where Powerblanket comes into play! The EH0202DV ground thawing blankets provide an easy and affordable way to keep your job sites running on schedule, and keep the grounds thawed and workable.
The high watt density in the EH0202 DV ground thawing blankets allows for even completely frozen ground to be thawed in good time, in order to allow work to continue as usual. Use the ground thawing blankets to remove frost before pouring concrete, or to also remove ice and snow from roofs, walk ways and paths, and other areas of your construction site. Using thawing blankets keeps job sites safe as well, reducing the risk of slips or falls due to ice and snow build up.
The EH0202 DV blanket measures 2' by 2' providing for a total of 4 square feet of thawing coverage. Featuring a 15 Amp cord type, and dual voltage capabilities for 12 volt and 120 volt operation. Ground thawing blankets are easy to install and easy to remove – and storage is simple as well thanks to the flexible design. Weighing in at just 3 pounds, one individual can easily handle transport and set up – And storage concerns are minimized since the blankets can be easily tucked away or stored stacked on top of other equipment. The standard EH0202 DV comes with an internal preset temperature, but combining with a thermostatic controller will provide a higher level of heat control. Use ground thawing blankets will save you time and money on both delays and labor costs.
Order ground thawing blankets
and more by Powerblanket at Intech Equipment and Supply today!
2'x2' Dual Voltage 12V/120V 7.92/0.79 Amps Heating Blanket