30 gallon drum heater pro
SKU: BH30-PRO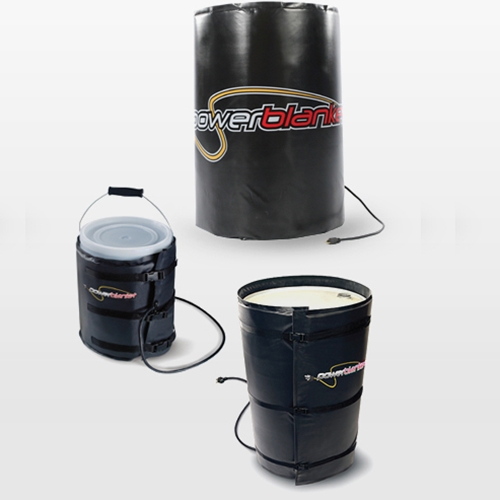 We have experts waiting to help you with any questions you may have.
866-652-9975
PRODUCT DESCRIPTION
30 Gallon Drum Heater BH 30 Pro
For even more versatility and a greater range for temperature control, opt for the BH30 PRO heater for a 30 Gallon Drum at Intech Equipment and Supply. Featuring all the best in technology from Powerblanket, the Pro series is designed for materials that require additional heat but without the sacrifice of efficiency or reliability. Learn more about the BH30 PRO and order yours today at Intech!
With the BH 30 PRO – The temperature control mechanism is a Digital Thermostic Controller – versus the internal preset in the standard drum heater models. This allows you to go from 100 degrees Fahrenheit max temperature on the standard BH30 RR to 145 degrees Fahrenheit max ambient on the BH30 PRO. Change the way you think of material heating processes with Powerblanket!
The beauty in the Powerblanket 30 gallon drum heater, and the full drum heater series – is the patented Green Heat technology that delivers an efficient heat source – while built in distribution design ensures cold spots are eliminated and that your materials don't exceed the recommended temp by uneven distribution. The 3 – Zone design on the BH30 PRO delivers heat based on the fullness of the 30 Gallon drum – as the drum empties, the zones switch to accommodate and ensure existing material doesn't get burned – but alternatively, as you fill the drum the higher zone will activate to distribute heat accordingly. This saves both time on the job in heating wait times, and also cost of damaged materials.
All of the sizes by
Powerblanket
for a Drum Heater are easy to set up, and easy to store. The BH30 PRO can be used on both steel or poly 30 gallon drum types – and custom options for additional sizes are available as well. Change the way your job sites heat materials and save frustration, time and money!
30 gallon drum Pro 160° F ± 10°F w/ Adjustable Controller 120 V 720 Watts 6.00 Amps