contractor grade ac axial ventilation kit 25ft
SKU: CVF8A25KIT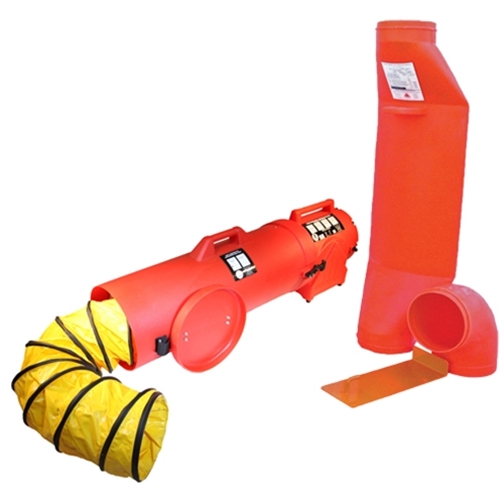 We have experts waiting to help you with any questions you may have.
866-652-9975
PRODUCT DESCRIPTION
Contractor Grade AC Axial Ventilation Kit 25ft Duct
Simplify your life with the full kit set up for confined space ventilation by Air Systems International. This easy to order, comprehensive kit comes at a price point that cannot be beat for the value. Designed to withstand even the toughest daily jobsite abuse, the CVF-8A AC Axial Fan can be used on multiple jobsites, so long as classified as a non-hazardous environment. In addition to the fan itself, you get 6 feet of duct with canister, as well as 25 feet of additional ducting, the Saddle Vent and angle, and the universal mount included.
This is a great solution to provide ventilation for general construction applications, general maintenance, confined space work, telecomm, electrical work and so much more. The easy set up combined with the patented Saddle Vent design can save you hours versus a traditional competitor ventilation system. Stop your search here, and choose over 28 years of expertise in manufacturing, design, and industry regulations with Air Systems International.
The CVF-8AC Axial Fan weighs only ten pounds, and can be easily moved around the jobsite or between jobs. The Saddle Vent system is an industry recognized leader for the last 20 years, streamlining entry and exit into a confined space without the sacrifice of safety. Functioning as a fresh air conduit, the Saddle Vent takes up only 3 inches at the entry, and does not need to be removed every time the user needs to get into or go out of the confined space. This alone justifies the entire kit! Couple that with the simplified order process and any compatibility questions being eliminated, and this is a great choice.
Get the CVF-8AC Axial Fan and entire kit today online at Intech Equipment and Supply. For additional information or individual products, shop the entire line up from Air Systems International
conveniently online
. For any questions or assistance, contact our experts and we will guide you every step of the way.